Of late, celebrities are not shying away from making relationships official. In Bollywood, stars make things obvious and have no hesitation in hiding their affairs.
But the stars in the south are still hesitant and hardly come out publicly to admit their relationships. back in the south, things are different and stars here keep their relationships quite personal. But here is one south couple who made their relationship official.
Read: Actress Rambha injured in a car accident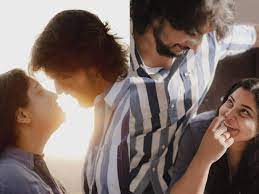 The news is that senior actor Karthik's son Gautam Karthik and heroine Manjima Mohan have made it public that they are in love with each other.
Manjima took to Instagram and revealed her love for Karthik with a detailed message. There is news that the couple will soon tie the knot.
Read: Hansika Motwani set to enter the wedlock
Taking to her social media, Manjima Mohan confirmed that she's in a relationship with the actor Gautam Karthik. She expressed, 'Three years ago when I was completely lost you came into my life like a guardian angel. You changed my perspective on life and helped me realize how blessed I am!! Every time I feel like a complete mess, you pull me up. You taught me to accept my flaws and to be myself more often. And the best thing I love about you is how much you love me for who I am! You are and will always be my favorite everything,' sharing her picture with Gautam Karthik, Gautam also expressed himself in the following manner.
View this post on Instagram
'What happens when the right person comes into your life? Most people would say that you would be filled with love the moment you set your eyes on them, your stomach will feel like there are butterflies flying around inside your heart would sing for joy etc…etc…@manjimamohan , our journey has been different for sure, lol. We started by always pranking each other, always bickering and arguing about the silliest of things. Even our friends couldn't stand our arguments. But little did I know that you were creating a bond, a beautiful bond between us. I decided to name this bond as 'friendship' at first. But it was stronger than that…You kept growing it…I named it as 'best friends'. But it grew stronger than that too…You kept nurturing it daily…You grew it stronger and stronger day by day. You've made ME stronger and stronger day by day than I ever believed I possibly could be."
View this post on Instagram