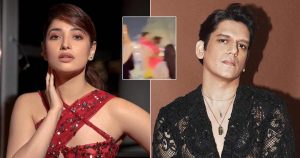 Tamannaah Bhatia, a popular actress in Tollywood, has been at the center of dating rumors with actor Vijay Varma since the release of an intimate video of them on New Year's Eve in Goa last year. However, neither Tamannaah nor Vijay has confirmed or denied these rumors until recently.

Tamannaah has now spoken out about the ongoing rumors in a recent interview, but she has chosen not to provide any clarification about her private life. She did reveal, however, that she has worked with Vijay Varma in an upcoming film.
Furthermore, Tamannaah expressed her frustration with how women in the industry are frequently linked with different men, leading to speculations and rumors. She jokingly remarked that she has been "married" numerous times on Fridays, and she wonders what will happen when she actually gets married, as people may not be as interested anymore.