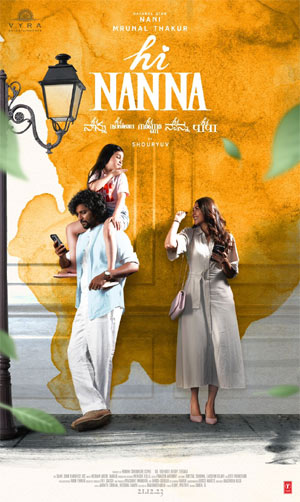 Natural Star Nani and the stunning beauty Mrunal Thakur are all set to captivate audiences with their upcoming movie, directed by the talented debutant Shouryuv. The makers have unveiled a visually captivating title poster featuring the lead actors, revealing the movie's title.
Titled "Hi Nanna," the movie's title is simple yet catchy. The glimpse showcased in the poster, which includes the leads and the adorable baby Kiara Khanna, leaves a strong impression and promises an emotional rollercoaster. One of the standout elements of the glimpse is the remarkable score by Hesham Abdul Wahab.
Baby Kiara Khanna plays a crucial role in this film, which is being produced by Mohan Cherukuri (CVM), Dr. Vijender Reddy Teegala, and Murthy KS under the esteemed banner of Vyra Entertainments. The movie is set to release in five languages and is scheduled to hit theaters worldwide on December 21, 2023.