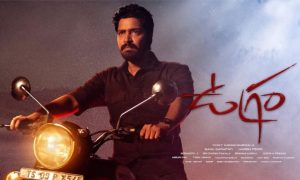 Cast: Allari Naresh, Mirnaa Menon, Indraja, Shatru, Naga Mahesh, and others
Director: Vijay Kanakamedala
Producers: Sahu Garapati, Harish Peddi
Allari Naresh, who is well-known for his humorous roles in movies, has experienced a series of box office disappointments for almost a decade. However, he surprised everyone with his impressive performances in serious roles in recent films such as "Naandi" and "Maharshi." Now, he has teamed up once again with director Vijay Kanakamedala for their second collaboration, "Ugram." Let's see what the movie is all about.
Story:
CI Shiva Kumar (Allari Naresh) is a dedicated police officer serving in the city of Warangal. He falls in love with Aparna, played by Mirna Menon, and despite her father's objections, the two get married. For five years, they lead a happy life together.
However, their world is turned upside down when an accident occurs, leaving Shiva with amnesia and causing his wife and child to disappear. The devastated Shiva sets out on a mission to investigate and uncover the truth behind their disappearance. The story follows Shiva's journey as he uses his investigative skills to search for his lost family and uncover the mysteries that caused their separation.
Analysis:
Vijay Kanakamedala, who made his directorial debut with the 2021 film "Nandi," impressed critics with his work. There are high expectations for his second film, "Ugram," which once again features Allari Naresh. The film opens with an interesting premise and the subsequent scenes are executed well, giving the impression of a potentially good film. However, this feeling does not last long.
The inclusion of an old-fashioned child sentiment track tests the patience of the audience and the film takes too many cinematic liberties, particularly with the protagonist, who is supposed to be under house arrest but is still able to roam freely in the name of investigation. This disconnects the audience from the story. By the end, the film falls short of providing satisfaction.

The series of missing person threads raises curiosity but ends up being farcical. Despite these shortcomings, the lead actors, Allari Naresh, and the heroines performed well. However, the rest of the cast had insignificant roles. The production values, courtesy of Shine Screens, are excellent. There are two songs in the film, and both are shot with a good budget. The music by Sricharan is decent.
Positives:
Allari Naresh portrays a sincere cop in the film.
The production values of the movie are high, and it has an interesting opening.
Negatives:
The movie features prolonged fight scenes and unnecessary sentiment scenes.
Verdict:
While the "Ugram" film starts off well, it falls slightly short of providing complete satisfaction by the end. Despite a strong performance by Naresh, the patchy direction is responsible for this shortcoming. As a result, the film may appeal to the mass audience to some extent, but for others, it may not meet their expectations.