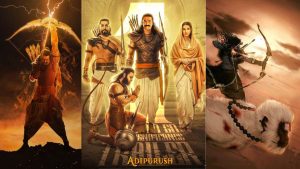 Adipurush, a mythological epic based on the Hindu mythology of Ramayan, is all set to release on June 16, 2023, and the film's promotions are in full swing, with the makers having recently unveiled the trailer for the film. After screening the trailer in select theatres yesterday, the official trailer is released on YouTube a few hours ago.
The trailer begins by depicting the conflict between Ram, Sita, and Ravan, a well-known storyline from Ramayan. Prabhas, who plays the role of Lord Ram, looks impeccable with his masculine build and suave charm, giving a new demeanor to the character. His bearded look is also a pleasant surprise and looks good on him.
Compared to the teaser, the trailer offers a much better visual experience, with positive efforts to enhance the output. The visual aspect appeals to the audience, while the background music with the Jai Shri Ram track running in the background creates a great vibe that leaves the audience on a high note, with the good soundtrack perfectly complementing the grade-A visuals.
A delightful surprise has emerged as Madhya Pradesh's Home Minister, Dr. Narottam Mishra, praised the trailer of the film Adipurush. This is a significant shift in opinion, as the Minister had previously criticized the film's teaser in October of last year. Dr. Mishra recently watched the trailer during a meeting with the film's producer, Bhushan Kumar, and writer, Manoj Muntashir, and congratulated them along with the entire team for their efforts ahead of the film's release.
फिल्म 'आदि पुरुष' का ट्रेलर देखा।

त्रेता युग में भगवान राममय धार्मिक और सांस्कृतिक समृद्धि जन-जन में समाहित होगी, ऐसा विश्वास है।@manojmuntashir जी और भूषण कुमार जी सहित पूरी टीम को बधाई।#AdipurushTrailer #Adipurush

— Dr Narottam Mishra (@drnarottammisra) May 8, 2023
The dialogues in the trailer have been adapted to appeal to the current generation, making them more relatable and meaningful rather than solely relying on traditional Sanskrit dialogue sources. The background score and dialogue appear to be effective and have received a positive response on social media.
The movie has generated excitement and high expectations among viewers who believe it will bring back the past glory of Prabhas, similar to the success of Baahubali. The movie has the potential to captivate audiences and appears to be a combination of a superhero movie and a mythological story that appeals to both children and adults.
Adipurush, directed by Om Raut and produced by T-Series, Bhushan Kumar & Krishan Kumar, Om Raut, Prasad Sutar, and Rajesh Nair of Retrophiles in association with Vamsi-Pramod of UV Creations, is releasing on June 16. This power-packed trailer will perfectly set the stage for the arrival of this magnum opus.