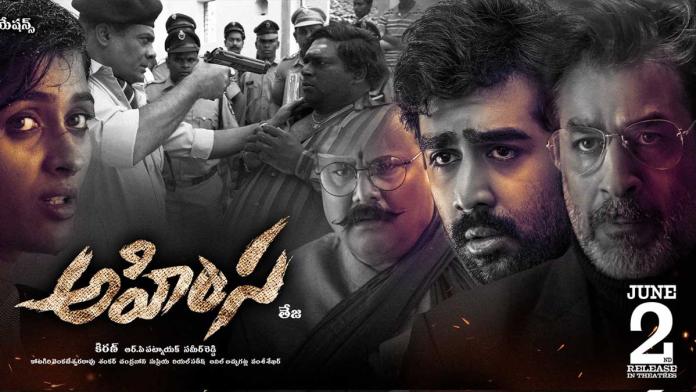 Cast: Abhiram, Geethika Tiwary, Rajat Bedi, Sadha, Ravi Kale, Kamal Kamaraju, Manoj Tiger, Kalpalatha, Devi Prasad
Director: Teja
Producer: P. Kiran
Ahimsa, the debut film of Abhiram Daggubati, the grandson of the legendary producer Dr. D. Rama Naidu and the brother of Rana Daggubati, has finally hit the screens after facing several delays.
Directed by Teja, the film has generated a lot of excitement among movie lovers, thanks to its intense teasers and trailers. The OTT rights of the film are yet to be finalized, and it will be available for streaming after its theatrical run.
Story:
Ahimsa revolves around a young man who strongly believes in nonviolence and how his peaceful life is shattered when he encounters a world full of corruption and violence due to a series of shocking incidents. Police officer Ekambaram (Ravi Kale) starts investigating the disappearance of a top politician named Dushyant Rao (Rajat Bedi) in Katheru village. During the investigation, he uncovers startling revelations about a young man named Raghu (Abhiram Daggubati), who firmly believes in nonviolence under all circumstances. The story unfolds with the connections between Raghu, Ahalya (Geethika Tiwary), her father (Devi Prasad), and lawyer Lakshmi (Sadha) coming to light.
Performances:
Abhiram Daggubati, hailing from the prestigious Daggubati family, makes a sincere effort in his debut role. He tries to showcase variations in his expressions and emotions. However, his character arc falls flat, lacking the impact that was expected.
Geethika Tiwary, in the female lead role, has limited opportunities to showcase her talent. She mostly remains confined to running after the hero, constantly asking for liplocks in both English and Telugu styles. Apart from a dialogue supporting Lord Krishna over Gautam Buddha, her character lacks depth.
Rajat Kale delivers an average performance as the typical antagonist. The other cast members like Sadha, Devi Prasad, and Ravi Kale, fail to leave a lasting impression.
Verdict:
Overall, the story of Ahimsa appears to be a disaster right from the start. Teja seems to have lost touch with the changing tastes and preferences of the audience. The film feels stuck in the 90s, and if it had been released in the 80s, it would have struggled to survive.
It's puzzling how experienced professionals like Suresh Babu, Venkatesh, and Rana entrusted young hero Abhiram, a member of their own family, to an outdated director. Perhaps it would have been better if he had not made his debut on screen at all.
Teja fails on all fronts, starting from the story to the screenplay and direction. The film is a downward spiral, much like Karna's tragic demise, and there are multiple reasons for Ahimsa's failure. Unlike Karna, who possessed many admirable qualities, Ahimsa lacks any redeeming factors.
In conclusion, Ahimsa disappoints on various levels, and Teja's outdated approach is evident throughout the film. Despite its delays, the movie fails to make an impact and falls short of expectations.