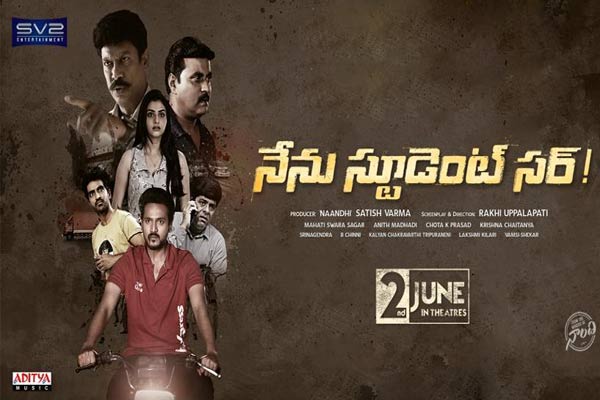 Starring: Bellamkonda Ganesh, Avantika Dassani, Samuthirakani, Sunil, Srikanth Iyengar, Auto Ramprasad, Charandeep, Pramodhini, Ravi Sivateja, and others.
Director: Rakhi Uppalapati
Producers: 'Naandhi' Satish Varma
Music Director: Mahati Swara Sagar
After the success of the family entertainer "Swathimuthyam," Ganesh Bellamkonda returns with his second film, "Nenu Student Sir!" Directed by Rakhi Uppalapati, the film was released today. Let's take a look at how it fares.
Story:
Subbu (Ganesh Bellamkonda) is a college student who aspires to own an iPhone 12. However, his financial constraints prevent him from purchasing one. Eventually, Subbu manages to buy the iPhone with his hard-earned money. Unfortunately, this purchase lands him in a murder case, completely turning his life upside down. To his surprise, he finds 1.75 crores credited to his bank account. How did Subbu become involved in a murder case? Who deposited such a large sum in his account? What challenges does Subbu face in proving his innocence? The film holds the answers.
Plus Points:
The core story provided by Krishna Chaitanya is commendable as it sheds light on the financial scam associated with unclaimed accounts. The chosen theme is effectively explained towards the end of the film through the character played by Sunil. In a way, the film raises awareness about this financial scam, which is appreciable.
Ganesh Bellamkonda delivers a sincere performance as a college student. His character in "Nenu Student Sir!" is not the typical hero, and his character arc is well-crafted. His portrayal feels natural, and he shines particularly in the climax portions.
Sunil, despite having a brief cameo, impresses with his role. His entry brings an interesting twist to the story, and the final forty minutes of the film are presented in a compelling manner. Samuthirakani performs his part as expected, and Srikanth Iyengar delivers a decent performance.
Minus Points:
"Nenu Student Sir!" could have been a gripping thriller if the screenplay had been better. The entire first half is tedious, failing to engage the viewers. Additionally, the dull and lengthy love track becomes annoying.
Several actors struggle with lip-syncing during most scenes, which affects the overall viewing experience. The second half also starts on a slow note, with many uninteresting and lackluster sequences, wasting a significant amount of screen time. However, just when the film begins to drag, the last forty minutes serve as redemption. A stronger narrative could have turned this movie into an exciting thriller.
The film requires significant editing, as at least fifteen minutes could have been easily trimmed. The dialogues often come across as irritating, with some lines needlessly repeated. Certain logical aspects are overlooked, and the filmmakers should have paid more attention.
Verdict:
In conclusion, "Nenu Student Sir!" has an intriguing concept but falls short in its execution. Ganesh Bellamkonda delivers a commendable performance, and the film becomes interesting towards the end. However, the rest of the movie lacks engagement and feels bland. Hence, "Nenu Student Sir!" is an average watch for this weekend.