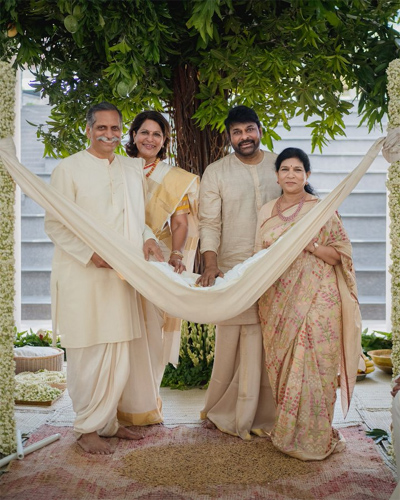 After a decade of marriage, star couple Ram Charan and Upasana Konidela were recently blessed with the arrival of their adorable baby girl. During their discharge from the hospital, Ram Charan mentioned that they would reveal their daughter's name during a special naming ceremony. Today, in the presence of their loved ones, the proud grandfather, Megastar Chiranjeevi, joyfully unveiled the name of his precious granddaughter to the public.
And the baby's name is 'Klin Kaara Konidela '..

Taken from the Lalitha Sahasranamam .. the name 'Klin Kaara' .. signifies a transformative purifying energy that brings about a spiritual awakening!

All of us are sure the little one, the Little Princess will imbibe these… pic.twitter.com/OKCf7Hw18z

— Chiranjeevi Konidela (@KChiruTweets) June 30, 2023
Taking to Twitter, Chiranjeevi shared a heartwarming picture featuring himself, his wife Surekha, Upasana's parents, Anil Kamineni and Shobana Kamineni, and the little one peacefully nestled in a hammock-like cradle. In his tweet, Chiranjeevi revealed that their baby girl has been named 'Klin Kaara Konidela.'
He further explained that this name draws inspiration from the revered Lalitha Sahasranama Nama, representing an embodiment of nature and encompassing the supreme power of the divine Mother 'Shakthi.' Chiranjeevi expressed his belief that their beloved little princess would gracefully inherit these qualities as she grows, leaving everyone enchanted by her presence.
Following the announcement, an outpouring of warm and heartfelt wishes flooded social media platforms, celebrating the arrival of Baby Klin Kaara Konidela.