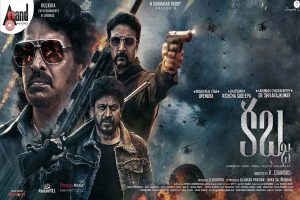 Starring: Upendra, Kiccha Sudeep, Shiva Rajkumar, Shriya Saran, Murali Sharma, Posani Krishna Murali, Kota Srinivasa Rao, John Kokken, Sudha, Anoop Revanna, Kabir Singh Duhan, Dev Gill & Others
Director: R Chandru
Producers: R Chandru
Music Director: Ravi Basrur
Synopsis:
Kabzaa, a period action film, follows the story of Arkeshwara (Upendra), an Indian Air Force officer from a family of freedom fighters. He falls in love with Madhumathi (Shriya Saran), a wealthy woman, but their plans for marriage are threatened by a group of ruthless gangsters and power-hungry politicians in Amarapura. In a turn of events, Arkeshwara becomes a powerful kingpin in the criminal underworld, and the movie explores how this change affects him and those around him.
Pros:
The cinematography in Kabzaa is exceptional, capturing the essence of the bygone era. Upendra delivers a commendable performance, particularly in his action scenes. Kiccha Sudeepa and Shiva Rajkumar's cameos are impactful, and the well-choreographed action sequences add to the film's appeal. The interval sequence is decently executed.
Cons:
Kabzaa draws too heavily from KGF, lacking originality and authenticity. From the story to the dialogues, Kabzaa feels like a near-replica of KGF, making it difficult for the film to stand out. The movie's focus on being larger-than-life takes away from the storytelling and emotional depth. The second half of the film is tedious, with a lackluster love track and clumsy editing. A sequel to this movie is unnecessary.
Verdict:
Kabzaa is a disappointing film, failing to live up to the hype. Despite the impressive cinematography and commendable performances by Upendra, the predictable storyline, unengaging narrative, and lack of emotional depth make it a tiresome watch. The film lacks originality, and its similarities to KGF are hard to ignore. Overall, Kabzaa is a movie that can be comfortably skipped without missing out on much.