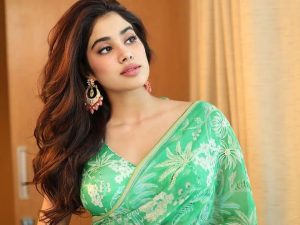 Despite reluctance in the past, Janhvi Kapoor has reportedly agreed to make her debut in South Indian cinema with NTR's 30th movie directed by Koratala Shiva. Previously, several filmmakers had tried to cast the Bollywood actress in South Indian films but were unsuccessful in convincing her. However, with her career not progressing as well as hoped in Bollywood, Janhvi has decided to take the plunge and explore new opportunities in Tollywood.
View this post on Instagram
Furthermore, rumors suggest that Janhvi will be paired with Ram Charan in an upcoming Pan-India movie with a Kabaddi sports theme directed by Sana Buchhi Babu, who made a sensational debut with 'Uppena' movie. Though an official announcement regarding the movie or its cast has not yet been made, insiders have revealed that Janhvi will play the love interest of one of Ram Charan's characters in the film, where he will reportedly play a double role.
View this post on Instagram
With these exciting new projects in the pipeline, it seems that Janhvi Kapoor is set to expand her horizons and make a mark in the Telugu film industry. It remains to be seen if she will continue to do more South Indian films after her debut, especially since her remuneration for NTR 30 is reportedly higher than her Bollywood remuneration.