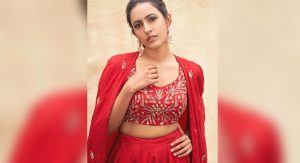 Niharika Konidela, daughter of well-known Tollywood actor and producer Nagendra Babu, had high hopes of making it big in the film industry as a successful actress. However, after a few lackluster performances, Niharika decided to call it quits and explore other career options. She tied the knot with her longtime beau, Chaitanya Jonnalagedda, in December 2020 and was enjoying married life.
View this post on Instagram
Recently, rumors have been circulating that Niharika and Chaitanya might have gone their separate ways as they both unfollowed each other on Instagram and deleted their wedding pictures. Fans of the actress were devastated by the news and took to social media to express their support and concern for Niharika.
View this post on Instagram
However, Niharika has yet to make any official statement regarding the rumors about her divorce or marital status. She has returned to Instagram with glamorous photo shoots, leading to speculation that she might be considering a comeback to the film industry as a lead actress.
View this post on Instagram
Despite not achieving much success as an actress, Niharika has always been a fan favorite for her bubbly personality and infectious smile. She has also showcased her talents as a host and anchor, amassing a huge following on social media. Fans are hopeful that Niharika will find happiness and success in all her future endeavors, whatever they may be.