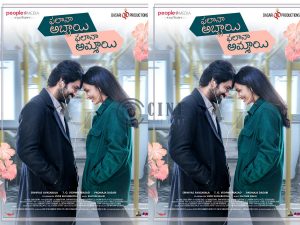 Cast: Naga Shaurya, Malavika Nair, Srinivas Avasarala
Director: Srinivas Avasarala
Music: Kalyani Malik
Producer: TG Vishwa Prasad
Story:
"Phalana Abbayi Phalana Ammayi" is a romantic drama film that revolves around the lives of Sanjay (Naga Shaurya) and Anupama (Malvika Nair). The story takes the audience through their journey from being acquaintances to close friends, and then finally, falling in love. The movie portrays the evolution of their relationship, with moments of joy, laughter, and heartbreak. The film explores the highs and lows of their relationship as they navigate through life's ups and downs.
Analysis:
The movie is directed by Srinivas Avasarala, known for his writing and screenplay expertise. The director's signature style is evident from the beginning, with relatable and organic situations set in a college backdrop. The episodic format helps to overcome any lag in the story, but it only works to an extent.
The success of the film depends on the characters who carry the narrative primarily on their shoulders. There are no other known faces in the first half of the movie. The simpler moments of the film work well, but the dramatic parts lack depth. The gradual escalation is in line with the rest of the movie, but the writing fails to make an impact.
In the second half of the movie, the lack of emotional depth in the conflict is more evident. The emotional impact that is needed to make the audience feel for the characters is missing. While the smaller moments work well, the bigger dramatic parts fail to deliver the desired effect.
Pros:
The casting is a highlight of the movie, with Naga Shaurya and Malvika Nair giving excellent performances.
Cons:
The natural storytelling and relatable situations make the movie enjoyable, but the lack of emotional depth in the dramatic parts leaves the audience with mixed feelings.
Verdict:
"Phalana Abbayi Phalana Ammayi" has its moments, but the weak conflict and climax, and the lack of emotional depth in the writing, make it fall short of being a great romantic drama. Nonetheless, the movie is still worth a watch, especially for those who appreciate Srinivas Avasarala's style.