Like never before, Kannada movies are becoming a rage. After the massive success of 'The KGF' series, another movie took the box office by storm. Rishab Shetty's 'Kantara movie which was released amid no expectations has ruled the box office in Kannada and the dubbed versions in Telugu and Hindi too did phenomenal business.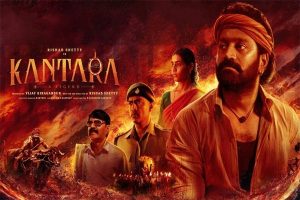 Also Read: It's wedding Time for Tamannah
It was heard that Amazon Prime has bought the digital rights to the movie for a record price and Starr MAA bought the satellite rights for a hefty amount. The movie which was supposed to be streamed on Prime in the first week of November has been postponed.
Also Read: Shubman Gill Dating This Heroine
As per the latest sources, 'Kantara' will be available on Amazon Prime from 24th November. 'Kantara' is a period drama. It deals with the issue of land politics and man vs nature. It is an action and supernatural thriller saga that celebrates the traditional culture of Kambla and Bhootha Kola.
The breakdown of the box office collections of Kantara is as follows:
Karnataka – Rs 176.40 Cr
Telugu States- Rs 51.60 Cr
Tamilnadu – Rs 9.76 Cr
Kerala – Rs 13.40 Cr
Hindi+ROI – Rs 93.70 Cr
Overseas – Rs 27.70 Cr
Total WW collection – Rs 372.56 Cr (Rs 188.90 Cr Share)