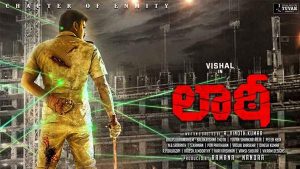 Starring: Vishal, Sunaina, Prabhu,
Director: A Vinoth Kumar
Producers: Ramana and Nandaa
Music Director: Yuvan Shankar Raja
Story:
Murali Krishna (Vishal) is a sincere and upright police constable. He is a dedicated cop who is loyal to his job and straightforward in any situation. Despite being sincere, he gets suspended for some reason. The DIG Kamal (Prabhu) helps Murali Krishna rejoin the police force. One day, Kamal asks for a favor and orders to lathi charge an accused who is a powerful man. Murali Krishna who obeys the orders lands in deep trouble for punishing the big shot. How he saves himself from the menacing villain forms the remaining story.
Plus Points:
Vishal
Last 40 minutes of the movie
Fights
Minus Points:
Poor writing
Predictable and Boring scenes
Climax
Verdict:
On the whole, Laatti is a mediocre cop drama with an outdated plot and screenplay. Vishal is the only savior of this film. Had the direction and technicalities been better, the movie would've been a decent hit.