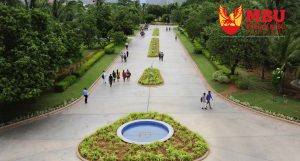 Mohan Babu University is renowned for its academic excellence, research output, and innovative approaches to education.
Atal Ranking of Institutions on Innovation Achievements (ARIIA): Mohan Babu University has been ranked in the excellent band (ARIIA 21) by the Ministry of Education (MoE), Govt.
All India Council for Technical Education (AICTE) – Confederation of Indian Industry (CII) survey: The University has been ranked in the platinum category (survey 20) by AICTE-CII.
National Institutional Ranking Framework (NIRF): MBU has been ranked 165 in India by NIRF.
These recognitions suggest that Mohan Babu University has demonstrated excellence in innovation, technical education, and institutional quality, respectively.