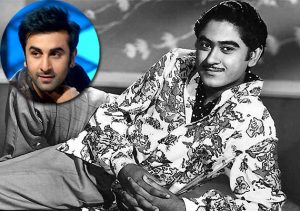 The talented and handsome Ranbir Kapoor who was last seen in Brahmastra is set to portray the legendary Kishore Kumar in an upcoming biopic. The film will showcase the life and career of the iconic Indian singer, songwriter, and actor who mesmerized audiences with his unique voice and eccentric persona.
Kishore Kumar, who passed away in 1987, left an indelible mark on Indian music and cinema with his unforgettable songs and performances. He was a multifaceted personality who could sing, write, compose and act with equal flair. His music and voice continue to captivate and inspire generations of music lovers and artists.
Ranbir Kapoor, who is known for his versatility and acting prowess, is a perfect fit to play Kishore Kumar on the big screen. He has already proved his mettle in portraying real-life characters such as Sanjay Dutt in Sanju. His ability to transform into any character is bound to bring Kishore Kumar's life and legacy to life on screen.

The biopic is being produced by filmmaker Anurag Basu, who had previously worked with Ranbir Kapoor in Barfi. The film is still in the pre-production stage, and the rest of the cast and crew are yet to be finalized. However, fans are eagerly anticipating this project and are excited to see Ranbir Kapoor don the persona of the legendary Kishore Kumar.
Also Read: Huge set back for RGV
Kishore Kumar's biopic will not only showcase his life and career but also provide a glimpse into the golden era of Indian music and cinema. It will be a tribute to the man who was an icon of his times and whose music and personality continue to resonate with people of all ages. With Ranbir Kapoor in the lead role, the film promises to be an unforgettable cinematic experience that will transport audiences to a bygone era of Indian music and cinema.
The film promises to be a fitting tribute to the legendary singer and actor and will showcase Ranbir Kapoor's acting skills in a new light. The project is sure to be a blockbuster hit and will bring Kishore Kumar's music and legacy to a whole new generation of audiences.