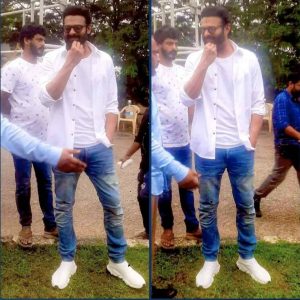 Pan India hero Prabhas has been absent from public appearances for a while, but he is now set to make a comeback. He will participate in several events across multiple Indian cities, and the highly-anticipated trailer for his upcoming movie "Adipurush" will be unveiled on May 9th, which is tomorrow.
Recently, a photo of Prabhas has been circulating on social media, showing him looking dashing and fashionable. He is wearing a white shirt, ripped jeans, and white sneakers, which create a perfect outfit combination. With a bright smile on his face, his strong personality exudes an appealing sense of class, and it's no wonder his fans lovingly refer to him as "Darling."
Fans are eagerly anticipating the release of the "Adipurush" trailer, hoping for a spectacular visual experience. The trailer will be released in about 70 countries, making it the most widely distributed trailer ever. The first showing will take place at AMB Cinemas in Hyderabad.