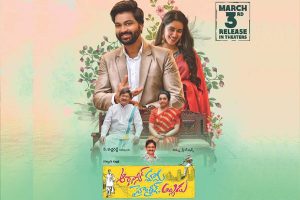 Starring: Sohel, Mrinalini Ravi, Rajendra Prasad, Meena, Varun Sandesh, Rashmi, Sunil, Ali, Ajay Ghosh, Sapthagiri, Praveen, and others
Director: S.V. Krishna Reddy
Producer: Koneru Kalpana
Music Director: S.V. Krishna Reddy
SV Krishna Reddy, a popular director in the 1990s, makes a comeback with Organic Mama Hybrid Alludu, starring Sohel of 'Bigg Boss' fame. However, can the director recreate his past successes with this new entertainer?
Story:
Vijay is an unsuccessful movie director who is struggling to make ends meet by selling Kondapalli toys, made by his sculptor parents. During a difficult phase, he meets Haasini, and they quickly fall in love. But their love story is put to the test when Haasini's father, Venkatramana, objects to their relationship, citing Vijay's family's poor financial situation. Vijay wants to prove himself to Venkatramana, and when a producer named Munikonda offers him a chance to direct a film, he sees it as an opportunity to win Venkatramana's approval. The film follows Vijay's struggles to make the film a success and win over Haasini's father.
Plus Points:
Sohel delivers an impressive performance as the lead, portraying a failed director and an honest individual. His screen presence is impactful, with his dancing, fighting, and heroic scenes entertaining his fans. Mrinalini Ravi looks stunning and shares great chemistry with Sohel, showcasing her expressive skills as Haasini. Sunil's lighthearted and humorous role is well-utilized by the director, and Rajendra Prasad delivers his usual best. The film is clean and family-friendly, with beautifully picturized songs.
Minus Points:
The post-interval track involving Sohel, Mrinalini, Ajay Ghosh, and Praveen is unbearably tedious, with the comedy failing to bring any laughs. It lacks a connection to the main plot, and the prolonged duration tests the audience's patience. The film follows a formulaic approach, with a fight scene followed by a song and then a comedy sequence. The repetitive expressions of Rajendra Prasad's character become monotonous quickly.
Verdict:
Organic Mama Hybrid Alludu fails to offer a refreshing viewing experience, with its predictable narrative making it a tedious watch. The film's length becomes a significant drawback, and the comedy track in the second half fails to bring any laughter. Overall, it is a disappointing comeback for SV Krishna Reddy.