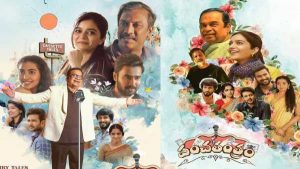 Starring: Dr. Brahmanandam, Swathi Reddy, Samuthirakani, Rahul Vijay, Shivathmika Rajasekhar, Naresh Agastya, Divya Sripada, Vikas, Aadarsh Balakrishna, Sri Vidya Maharshi
Director: Harsha Pulipaka
Producers: Akhilesh Vardhan, Srujan
Music Directors: Shravan Bharadwaj, Prashanth R Vihari
In recent years, several anthology movies have been made in Telugu. Krish's Vedam and Praveen Sattaru's Chandamama Kathalu are the best examples. These movies had a decent run at the box office. Now, after a brief gap, director Harish Pulipaka has come up with a similar concept with the movie Panchatantram which got released today. As this movie marks the comeback of star comedian Brahmanandam and actress 'Colors' Swathi, there's a decent buzz created in the movie. Let's see what the movie is all about.
Also Read: Why he hates Rashmika Mandanna?
Story:
A retired All India Radio Employee Veda Vyas (Brahmanandam) feels uncomfortable sitting and doing nothing at home after his retirement and thinks of becoming a storyteller. However, his daughter Roshini (Swathi) doesn't like it and discourages him. But, Veda Vyas decides to go ahead with his idea and attends the storytelling competition.
He narrates five different stories and selects his theme as the five senses.
The first story's theme is hearing, which is told through a frustrated software employee played by Naresh Agastya. Though he has everything, he misses something in life which often leaves him depressed and frustrated. He comes across a beach through some of his friends and he gets excited unknowingly when he heard about the beach. What's the connection between him and the beach the first story is all about?
The second story's theme is taste. Rahul Vijay and Shivatmika Rajasekhar played the lead roles in this story. Rahul Vijay who is looking for a perfect life partner rejects many girls as they don't match his taste and finally accepts Shivatmika. While they were supposed to get married, Rahul receives a call from Shivatmika and they both meet. What's the link between the meeting and the taste is the second story.
The third story's theme is the smell. A retired employee Samuthirakani smells blood when his daughter is about to deliver a child. What's the link between his smell and his daughter's delivery is the third story.
The fourth story's theme is touch, which is about a couple going through a miserable situation, played by Vikas Muppala and Divya Sripada. While Divya Sripada was pregnant, she suffers from bleeding and comes to know that she is cancer affected but they can't afford for the treatment. What's the connection between touch and whether can they overcome the trouble in the story?
Finally, the last story's theme is the sight which is about a children's storyteller played by Swathi. She tells the children's stories by the name Liya and several kids to become her fan. Uttej's daughter becomes the biggest fan of Swathi. What change did Uttej's daughter bring in Swathi and how does Veda Vyas's life change after telling all these five stories is the movie is all about?
Also Read: Interesting title for Naga Chaitanya's new movie
Verdict:
On the whole, Panchathantram is a movie made with a different concept and it caters to a segment of the audience. The performances of the actors and a couple of stories make their mark. But the movie's length and a few jading stories make the movie a tedious watch at times. Those who like different stories and anthologies can give it a try, but others might not find the movie interesting.