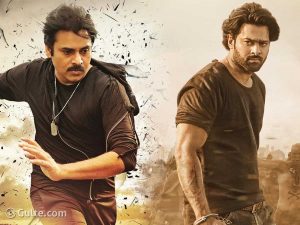 The upcoming project featuring Power Star Pawan Kalyan and director Sujeeth has finally gone on floors. Tentatively titled OG, there are rumors that the film's makers are considering alternative titles such as Fire Storm Is Coming and They Call Him OG. Fans are already buzzing with anticipation, and the film is poised to be a massive success.
Priyanka Mohan, an accomplished and talented actress who has received widespread acclaim for her performances in Gang Leader and Sreekaram, will play the female lead opposite Pawan Kalyan. The announcement of her casting has only added to the excitement around the film.
As per the latest reports, director Sujeeth has requested Prabhas to lend his voice to the film. Prabhas, who has a close working relationship with Sujeeth, has agreed to give a voice-over. This announcement has further increased the film's buzz and generated even more interest among fans.

Despite the rivalry between the fans of Pawan Kalyan and Prabhas, both actors have always maintained a friendly and supportive relationship. The announcement of Prabhas's involvement has brought their fans together, and they are eagerly anticipating the film's release.
The film's shooting is expected to wrap up within a few months, and the producers are targeting an early 2024 release. With Pawan Kalyan's massive fan following, this film is bound to be a blockbuster hit at the box office.