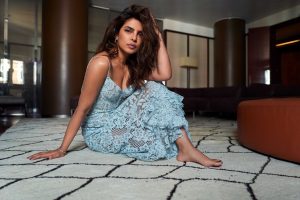 Priyanka Chopra recently appeared on the Today Show, where she shared how she learned to become her own source of encouragement during tough times in her teenage years when she moved to the US.
Priyanka recounted feeling like a fish out of water in high school and struggling to navigate the unfamiliar environment, including the dreaded cafeteria. Her nerves were so bad that she resorted to eating alone in a bathroom stall with snacks from a vending machine, a habit that lasted for quite some time until she learned to adjust by observing others.
She also spoke candidly about feeling pressure to conform and even altering aspects of her identity and explaining her family's traditional values to her peers in an effort to fit in.
Despite these challenges, Priyanka eventually made friends and went on to win the Miss World title as a teenager. She began her acting career in Bollywood and has since become a well-known figure in the US entertainment industry.
Priyanka stressed the importance of engaging in a positive self-dialogue to build self-confidence and overcome difficult situations. While she doesn't advocate "faking it till you make it," she believes in the power of self-motivation and self-hype.
Currently, Priyanka stars in the Amazon Prime Video series Citadel, which is available for streaming.