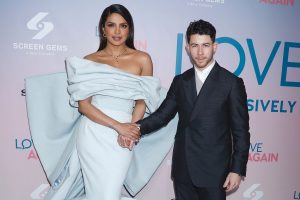 Priyanka Chopra has been gaining a lot of attention lately due to the success of her latest web series, Citadel, which is being widely streamed on OTT platforms. She is also receiving acclaim for her outstanding performance in the movie Love Again, which has recently hit the theaters.

In a recent appearance on the late-night talk show, Watch What Happens With Andy Cohen, Priyanka Chopra, and Sam Heughan participated in the BFF test. During the show, the host, Andy Cohen, questioned the duo about their thoughts on having sex on a first date. Both actors responded by stating that they were comfortable with the idea, and it is acceptable to give a fake number if there is no interest in the person.
The host then asked Priyanka Chopra and Sam Heughan to choose between oral sex and cheese. Chopra jokingly replied that she liked the positioning of oral sex with cheese. However, she later agreed with Heughan's choice to give up cheese instead of oral sex. This hilarious clip has now gone viral on social media.