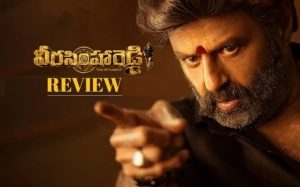 Starring: Nandamuri Balakrishna, Shruti Haasan, Duniya Vijay, Varalaxmi Sarathkumar, Honey Rose, Naveen Chandra, Lal, Ajay Ghosh, Mirali Sharma
Director: Gopichand Malineni
Producers: Naveen Yerneni and Ravi Shankar Yalamanchili
Nandamuri Balakrishna has a good record of delivering hits for Sankranthi. However, no other director except Boyapati Srinu could deliver a hit with Balakrishna in the last decade and a half. None of his movies with other directors could leave even the slightest impact at the box office.
Balakrishna has teamed up with director Gopichand Malineni who delivered a super hit Krack with Ravi Teja. Unlike most of his movies with other directors, Balakrishna's Veera Simha Reddy created a decent buzz before the release. Let's see if Balakrishna can able to deliver another hit or not.
Also Read: Is Samantha cursed?
Story:
Seems Balakrishna is obsessed with the dual roles which brought him luck on most occasions. Like his movies with Boyapati, Balakrishna played the dual roles of a father and son in the movie. Veera Simha Reddy (Balakrishna) is a powerful man from Pulicherla of the Rayalaseema region. He stands by his men at all times and becomes a nightmare for enemies.
On the other hand, his son Jai Simha Reddy (Balakrishna) who is unaware of his father leads a simple and normal life with his mother (Honey Rose) in Istanbul. Why do father and son live separately and why does Bhanumathi (Varalaxmi Sarathkumar) plan to kill Veera Simha Reddy for the last 30 years? The answers to these questions form the rest of the story.
Analysis:
Nandamuri Balakrishna's costumes and hairstyle have become the topic to troll him in all his movies except for that of Boyapati. Director Gopichand Malineni has taken special care in designing Balakrishna's roles. He looks good both as a father and son.
Apart from Boyapati's movies, the Veera Simha Reddy character is one of the best characters for Balakrishna in recent times. The dialogue delivery, mannerisms, and body language everything looks perfect.
The movie starts on a good note and keeps entertaining till the interval. The entire first half is engaging. However, the tempo falls in the second half. The sentiment is overdone and the core reason for the conflict doesn't seem reasonable.
Also Read: Bigg Boss winner turns thief?
Positives:
Nandamuri Balakrishna's performance as Veera Simha Reddy
First half
Fierce political dialogues
Songs
Negatives:
Second half
Routine flashback episode
Poor and routine story
Fights
Verdict:
On the whole, Veera Simha Reddy offers a feast to the fans and audience in the first half. However, the second disappoints big time. The second half may work for the hardcore fans of Balakrishna and B, C center audience.