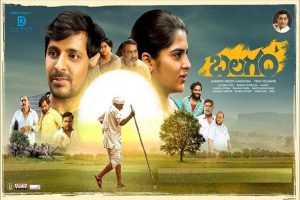 Starring: Priyadarshi, Kavya Kalyanram, Venu, Muralidhar Goud, Jayaram, Roopa, Racha Ravi
Director: Venu Yeldandi
Producers: Harshith Reddy, Hanshitha Reddy
Music Director: Bheems Ceciroleo
Cinematography: Acharya Venu
Director Venu Yeldandi, a small-time comedian in Telugu, makes his directorial debut with Balagam, backed by Dil Raju. The film, set in the rural parts of Telangana, revolves around a long-standing feud between two families and the challenges faced by the protagonist, Saailu (played by Priyadarshi). The film hit screens recently, and here's what we think.
Storyline:
Balagam tells the story of Saailu, a young man who has tried his hand at several businesses but failed to find success. In an attempt to pay off his debts and escape the wrath of moneylenders, he decides to get married. However, a petty argument leads to the cancellation of his marriage during the wedding ceremony, following the death of his grandfather Komurayya. Saailu must now navigate these obstacles, clear his debts, and uncover the reason behind the ongoing feud between the two families.
Also Read: FIR filed against SRK's wife
Positives:
Balagam's realistic portrayal of village life in Telangana is its biggest strength. The authenticity of the village environment, the characters' body language, and the everyday quarrels among villagers add to the film's realism, making it easy for the audience to connect with the story. The characters are portrayed genuinely and realistically, making them familiar to those who see them in their daily lives.
The film explores human values and emotions in connection to the death of a person. The emotions are presented without any cinematic exaggeration, and the situational humor will leave the audience with a big smile. The second hour of the film highlights the emotional aspects and is guaranteed to tug at heartstrings.
Also Read: Here's the Project K story
Director Venu's use of folklore songs to narrate the story effectively presents Telangana culture and traditions as an integral part of the plot. Priyadarshi and Kavya Kalyanram deliver outstanding performances, immersing themselves in their roles and showcasing their talent at a young age. Supporting actors Muralidhar Goud, Roopa, and Jayaram stand out for their excellent performances. The climax is executed brilliantly and is heart-wrenching.
Negatives:
The initial part of Balagam focuses more on character development, which may seem prolonged and could have been handled more efficiently. The pace of the first hour is sluggish, and it picks up only after the interval.
This film may not cater to those seeking purely entertainment-based movies. The storytelling is sincere, and it doesn't rely on commercial elements that some viewers might anticipate. However, the editing during the first hour could have been improved.
Verdict:
Balagam is a genuine attempt to tell a heartwarming story and explore human values and emotions without relying on commercial ingredients. It is a film that can be watched on the big screen to experience the authentic Telangana culture and countryside.