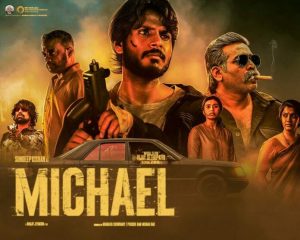 Starring: Sundeep Kishan, Divyansha Kaushik, Vijay Sethupathi, Varalaxmi Sarathkumar, Varun Sandesh, Anasuya Bharadwaj, Ayappa Sharma
Director: Ranjit Jeyakodi
Producers: Bharath Chowdary, Puskur Ram Mohan Rao
Music Director: Sam CS
It's been a while since Sundeep Kishan scored a hit. After some forgettable movies in the recent past, Sundeep Kishan is trying his luck with his first Pan-Indian movie Michael. With the addition of Vijay Setupathi, Gautham Menon, and Varun Sandesh, expectations have gone up for the movie. Let's see whether the movie can live up to all the hype or not.
Story:
The story is set in the 1990s in Mumbai. Gurunath (Gautham Menon) is the most powerful and dangerous in the city. He was saved by a young boy Michael (Sundeep Kishan) once. Impressed by Michael's bravery, Gurunath takes the kid under his wing and raises him. Eventually, Michael becomes the most reliable ally and protector of Gurunath.
Also Read: Nagarjuna and Allari Naresh in a multistarrer
Gurunath's son Varun Sandesh develops jealousy and hatred towards Michael as his father is giving more importance to him.
Gurunath was attacked once more and gets saved by Michael. After knowing that Rathan (Anish Kuruvilla) is the reason behind the attack on him, he orders Michael to kill both Rathan and his daughter Theertha (Divyansha Kaushik). But, Michael is unable to finish the task.
Why did Michael go against his orders and what about Gurunath's son is the rest of the story.
Plus Points:
Initial portions
Movie Taking
Technical and production values
 Minus Points:
Weak story
Slow narration
Much build-up, less impact
The climax
 Verdict:
On the whole, Michael is a stylishly made action entertainer with less focus on story and screenplay. The movie reminds several movies like Munna, Balu, and a few others. The director has laid more focus on technical aspects rather than focusing on the story. Overall, Michael is another disappointing movie from Sundeep Kishan.