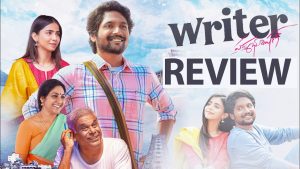 Starring: Suhas, Ashish Vidyarthi, Rohini Molleti, Tina Shilparaj, Sri Gouri Priya Reddy, Goparaju, Praveen Kataria
Director: Shanmukha Prasanth
Producer: Anurag Reddy, Sharath Chandra, and Chandru Manoharan
Music Director: Shekar Chandra and Kalyan Nayak
Suhas is one of the finest talents in the Telugu film industry. After impressive performances in the movies like Majili, Suhas turned into a hero with the award-winning Color Photo and has done a crucial role in Adivi Sesh's recent release HIT 2 movie.
Also Read: Nagarjuna's multistarrer with Young Hero
After a short break, Suhas is back as a hero with Writer Padmabhushan which hit the screens today. The movie created a lot of buzz with its promotions and received positive responses from the premier shows. Let's see what's the movie is all about.
Also Read: Prabhas in India's biggest multistarrer
Story:
Padmabhushan (Suhas) is a writer who wants to attain fame and recognition. He wishes everyone to appreciate and recognize his work. He publishes his first book Tholi Adugu. He shoots to fame, but the twist in the tale arises when it comes to knowing that the book wasn't written by him. Padmabhushan wants to find out who wrote the book with his pen name. Who is the writer? Can Padmabhushan find the writer? Why did the writer use Padmabhushan's name? To know all these, you need to watch the movie.
Plus Points:
Interesting Story
Suhas's acting
Engaging screenplay
Comedy
Minus Points:
Slow-paced narration
Heroine's role
Verdict:
On the whole, Suahs's latest movie Writer Padmabhushan is an engaging movie that has entertainment and sentiment in equal doses. Director succeeded in conveying the message he wanted to convey to the audience.
The performance of Suhas and the climax are the biggest advantages of the movie. Barring a bit of lag in the first half, the movie has everything to work at the box office and is a worth-watching this weekend.