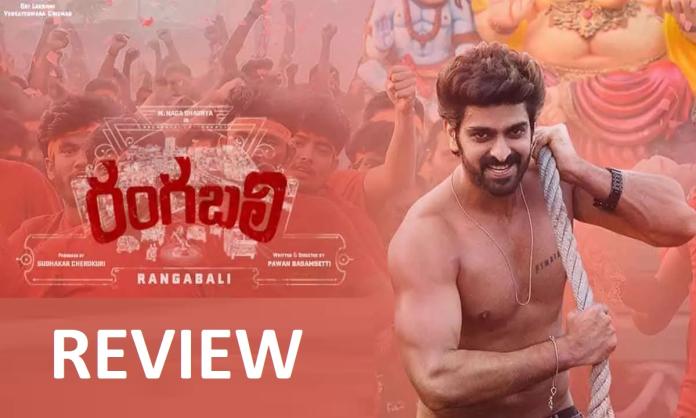 Starring: Naga Shaurya, Yukti Thareja, Shine Tom Chacko, Satya, Brahmaji, Rajkumar Kasireddy
Director: Pawan Basamsetti
Producer: Sudhakar Cherukuri
Music Director: Pawan CH
Rangabali, featuring a talented cast including Naga Shaurya, Yukti Thareja, Shine Tom Chacko, Satya, Brahmaji, and Rajkumar Kasireddy, is directed by Pawan Basamsetti. The film, which released today, invites us to explore its storyline and assess its merits.
Plot:
Rangabali revolves around Shaurya (Naga Shaurya), an easygoing individual with a deep love for his hometown, Rajavaram. Despite his reluctance, Shaurya is compelled by his father to pursue his studies in Vizag. It is in Vizag that he falls for Sahaja (Yukti Thareja), a doctor. However, Sahaja's father (Murali Sharma) opposes their union due to an issue concerning the Rangabali center in Rajavaram. What is the nature of this issue? Does Shaurya manage to find a resolution? And how does Parasuram (Shine Tom Chacko) become entangled in the troubles surrounding the Rangabali center? The film holds the answers to these questions.
Pros:
Naga Shaurya effortlessly slips into the role of a relatable boy next door, impressing us once again. His portrayal of Shaurya, who holds a deep attachment to his hometown and stands up against influential figures for a cause, is commendable. The actor's dialogue delivery has notably improved, particularly during intense scenes. Additionally, his comedic timing is praiseworthy.
Satya, the talented comedian, delivers an exceptional performance, tickling the audience's funny bone with his impeccable timing, expressions, and witty dialogues. He effortlessly carries the first half of the film.
Goparaju Ramana leaves an enjoyable impact with his small yet effective role, particularly in his interactions with Naga Shaurya.
The director skillfully crafts an engaging first half, capitalizing on well-executed comedy scenes involving Shaurya and Satya.
Cons:
The film lacks a strong hook to captivate the audience. While the director manages to handle the first half well, incorporating decent comedy scenes among Shaurya, his friends, and his family, the second half falls short. The director fails to capitalize on the groundwork laid in the first half, primarily due to weak writing. The screenplay exacerbates this issue, ultimately leaving Rangabali below par.
It is disheartening to see Shine Tom Chacko, a talented actor, receive limited screen time and an underdeveloped character. The face-off scenes between Shine Tom Chacko and Naga Shaurya fail to leave a lasting impression.
Despite the presence of notable actors like Murali Sharma and Sarathkumar in key roles, the director fails to effectively utilize their potential. Better-written scenes could have enhanced their impact. Characters such as Anantha Sriram lack significant relevance to the film's plot.
The reduced presence of comedian Satya in the second half diminishes the potential impact of his character, as trimming it alters the movie's outcome.
The second half, particularly from the pre-climax onwards, disappoints. The abrupt ending and forced conclusion leave the audience puzzled and dissatisfied with the overall narrative.
Verdict:
In conclusion, Rangabali is an action comedy drama with weak writing and incomplete execution. While Naga Shaurya's performance and Satya's comedic prowess provide some highlights, the film falls short of expectations. If you decide to watch it, it is advisable to approach it with moderate expectations.