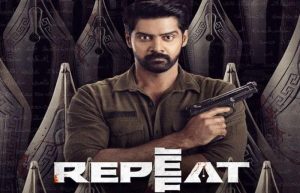 Starring: Naveen Chandra, Madhoo, Achyuth Kumar, Mime Gopi, Smruthi Venkat, Satyam Rajesh, Pooja Ramachandran
Director: Arvindh Srinivasan
Producer: Ramanjaneyulu Javvaji
Music Director: Ghibran
Naveen Chandra is one of the busiest actors in Tollywood now. After he shed his hero image and focused on important roles, he got busier with work. After an impressive role in Aravinda Sametha, Naveen Chandra was flooded with offers and he's busy with web series and movies. After not so impressive outing with the Thaggedele movie, Naveen Chandra came up with a Repeat movie which is a direct OTT release on Hot star.
The movie is a remake of the Tamil movie DeJavu and the Telugu dubbed version is available on OTT. Despite the fact that it's already dubbed, the makers have remade the movie. Let's see how the movie fares.
Also Read: Puri Jagannadh's IDIOT sequel with star Hero?
Story:
Subramanyam (Achyuth Kumar) is a writer by profession and one night he visits the Police station in seek of help as the characters in his stories threaten him by coming to life. As he was drunk, the police don't take his complaint seriously. But things become complicated when the DGP Asha Pramod's (Madhoo) daughter goes missing in the same way the writer penned the story.
The police start suspecting Subramanyam is behind DGP's daughter missing, but they couldn't get any evidence against him. To unfold the mystery, an undercover cop Vikram Kumar (Naveen Chandra) gets deployed. Did Vikram solve the mystery? Is the DGP's daughter safe? How come the novelist's stories turn out to be true? Watch the film to know the answers.
Also Read: Masooda Movie Review
Plus Points:
The basic plot looks interesting and the first half an hour of the movie keeps everyone engaged.
Naveen Chandra is perfect in the role of an undercover cop. His body language and mannerisms perfectly suit the cop's role. From his entry, the film picks up the pace, and he carries the film on his shoulders throughout.
Comedy is good at places. Madhu Bala of Roja fame is decent as the DGP. Achyuth Kumar who is a well-known name after Kantara's success brings out another natural performance. Others like Satyam Rajesh, Pooja Ramachandran, Mime Gopi, and Smruthi Venkat are adequate in their respective roles.
Minus Points:
For thriller movies, the establishment of the plot is the key, and this is where Repeat failed to succeed. The movie's basic premise is not established well, and hence the movie fails to reach a new level.
As it's a remake, the makers haven't reshot many portions except for Naveen Chandra's portions and a few others. There were some logical errors that need to be corrected.
Verdict:
On the whole, Repeat is an okay movie with some good twists in the second half. The performances and the twists work well but the problem lies with the below-par first hour and logical errors. Those who watch crime thrillers can give it a watch.