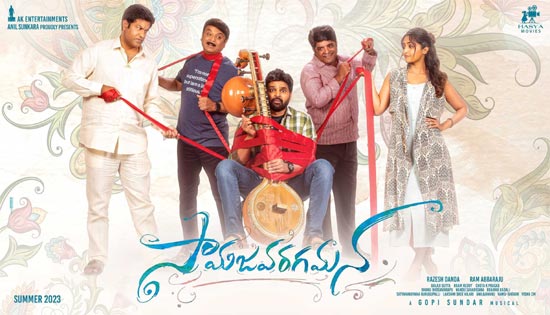 Starring: Sree Vishnu, Reba Monica John, Naresh, Sudarshan, Srikanth Iyengar, Vennela Kishore, and others
Director: Ram Abbaraju
Producer: Razesh Danda
Music Directors: Gopi Sundar
"Samajavaragamana," the latest offering from promising actor Sree Vishnu, directed by Ram Abbaraju, hit the screens today. With a decent pre-release buzz, let's delve into our review to see if the film successfully entertained the audience.
Story:
The movie revolves around Bala Subrahmanyam (Sree Vishnu), known as Balu, who works as a ticket seller at a popular multiplex in Hyderabad. His father, Uma Maheshwara Rao (Naresh), is determined to complete his degree and unexpectedly meets Sarayu (Reba Monica John) in an exam hall. Sarayu later becomes a paying guest at Uma's house and falls in love with Balu, who typically treats all girls as sisters. Gradually, Balu also develops feelings for her. However, a shocking revelation about Sarayu's family unveils, leading to a series of events where Balu must resolve the issue.
Plus Points:
Director Ram Abbaraju impresses once again with his storytelling prowess, ensuring an engaging and comedic drama. The first half stands out with its seamless narration, devoid of any dull moments.
Sree Vishnu shines in his comedy role, delivering a commendable performance with natural ease. His impeccable comedic timing and delivery of witty punches and emotional dialogues leave a lasting impact.
Reba Monica John surprises with her versatile portrayal, effortlessly handling both comedic and emotional scenes. Her impressive dancing skills add to her captivating performance.
Naresh Vijaya Krishna showcases his versatility, effortlessly portraying an elderly student pursuing his degree. His attire and expressions add to the humor, providing enjoyable moments.
Srikanth Iyengar delivers a strong performance in his role, while Vennela Kishore brings laughter with his limited screen time. The rest of the cast performs adequately in their respective roles.
Sree Vishnu's monologue scene and spontaneous dialogues throughout the movie captivate the audience.
Minus Points:
While the story remains interesting, the second half feels slightly dragged. The director could have paid more attention to the screenplay in the latter part, balancing the pacing.
The film features key characters who could have been utilized more effectively. Sudarshan's comedic timing could have been better utilized for additional laughs, and Rajiv Kanakala's character could have been further developed.
Certain scenes involving Srikanth Iyengar become repetitive and monotonous, leading to a sense of tedium.
The director's focus on creating a hilarious family entertainer is evident, but the emotional scenes, especially in the climax, feel somewhat forced and less natural.
Apart from a couple of exceptions, the songs fail to leave a lasting impression and are easily forgotten once the movie concludes.
Verdict:
In conclusion, "Samajavaragamana" is an enjoyable and captivating family entertainer that successfully delivers laughter and solid performances by Sree Vishnu, Naresh, and Reba Monica. Despite a few repetitive scenes in the second half, the film remains a great choice for audiences seeking entertainment this weekend.