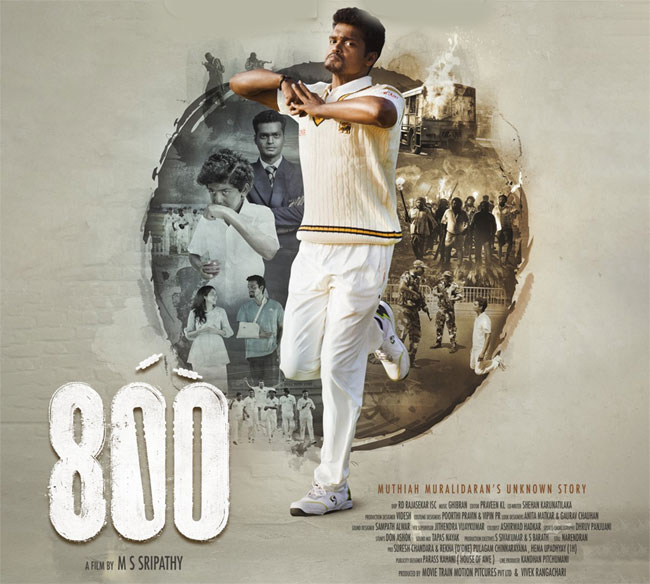 Starring: Madhur Mittal, Nasser, Mahima Nambiar, Narain, Sharath Lohithaswa, and others
Director: MS Sripathy
Producer: Vivek Rangachari
Music Director: Ghibran
The Indian film industry has witnessed a rising trend of biopics in recent years. Surprisingly, this trend has now led to the creation of a biographical film centered not on an Indian personality but on the legendary Sri Lankan spinner, Muttiah Muralitharan.
The Movie has hit theaters today. Madhur Mittal, known for his role in "Slumdog Millionaire," portrays the iconic cricketer in this sports drama. Read on for our review of the film.
Story:
The movie delves into the life of Muttiah Muralitharan, a cricketing legend from Sri Lanka. It explores both his personal and professional journey, shedding light on the challenges his family faced due to ethnic tensions in Sri Lanka. The narrative also navigates through his struggles before and after entering international cricket, along with the controversies surrounding his unique bowling action.
Plus Points:
Madhur Mittal delivers an impeccable performance as Muttiah Muralitharan, effectively immersing the audience in the character with nuance.
The second half of the film features several impactful scenes, particularly those that unveil the truth about Muralitharan's bowling action.
Some emotional moments are executed effectively, with Nassar delivering a noteworthy performance. The supporting cast also performs adequately, and the Telugu dubbing is satisfactory.
Minus Points:
The engagement of a known story, especially one about a renowned personality, heavily relies on effective storytelling. In this regard, director M.S. Sripathy falls short of leaving a lasting impression.
Biopics often need to offer deeper insights into events already known to the audience through various sources. Unfortunately, "800" fails to establish a strong emotional connection with the audience while showcasing such incidents.
The screenplay could have been more finely crafted to elevate several scenes, which missed the opportunity to create a more memorable biopic.
The musical score, handled by Ghibran, could have added depth to key scenes but falls short in doing so.
Technical Aspects:
M.S. Sripathy, as both the writer and director, could have delivered a more refined biopic and paid a fitting tribute to the famous cricketer.
Ghibran's music fails to enhance the emotional depth of crucial scenes. While the editing by Praveen K. L. could have been crisper, the cinematography and production values meet the satisfactory standard.
Verdict:
In summary, "800" is a biographical film that has its moments. Madhur Mittal's exceptional portrayal of Muttiah Muralitharan and some emotional scenes in the second half stand out. However, the film is marred by a sluggish screenplay in both halves, a lack of high-impact moments, and emotional depth in certain areas. Those interested in delving into Muttaiah's personal life rather than his cricketing career may find this movie worth watching over the weekend.