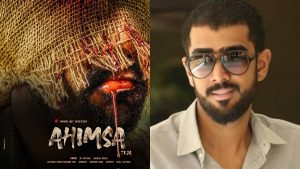 Abhiram Daggubati, the younger brother of popular Telugu actor Rana Daggubati, is all set to make his debut as a hero in the upcoming action love story "Ahimsa". Directed by renowned filmmaker Teja, the film has been in the news ever since it was announced, with fans eagerly waiting for updates on its release.
And now, the makers have officially announced that "Ahimsa" will be hitting the screens worldwide on April 7th, 2023. This news has sent ripples of excitement throughout the Telugu film industry, with fans eagerly anticipating Abhiram's debut.
The film's poster was also released to coincide with the announcement, which shows Abhiram and his co-star Geetika in a romantic pose. The poster has been receiving a positive response from fans, who are looking forward to seeing the chemistry between the two actors on the big screen.
"Ahimsa" also boasts of an impressive ensemble cast, which includes Rajat Bedi, Sadha, Ravi Kale, Kamal Kamaraju, Manoj Tiger, Kalpalatha, Devi Prasad, and others in pivotal roles. P Kumar of Anandi Art Creations has produced this movie, while RP Patnaik has composed the music.
Teja, who has introduced numerous heroes and heroines to the Telugu film industry, has taken the responsibility of introducing Abhiram Daggubati as a hero in "Ahimsa". Speaking about his experience working with Abhiram, Teja said, "Abhiram is a hardworking and dedicated actor, and it was a pleasure working with him. He has the potential to become a big star in the industry, and I am sure that audiences will love his performance in 'Ahimsa'."
Abhiram, on his part, expressed his gratitude to the entire team for giving him the opportunity to make his debut in such a prestigious project. He said, "I am thrilled to be making my debut in a Teja sir's film, and I am grateful to the entire team for their support and encouragement. I hope that audiences will appreciate our efforts and give us their love and support."
"Ahimsa" is undoubtedly one of the most anticipated events in the Telugu film industry, with fans eagerly waiting to see Abhiram Daggubati's debut. With an impressive cast and crew, and a renowned director at the helm, the film promises to be an action-packed love story that will leave audiences entertained and engaged.