Senior actress Rambha met with a harrowing accident while she was driving back home after picking up the kids from school. The actress revealed that she was hit by another car at an intersection. Though she had only minor injuries, unfortunately, her daughter Sasha got hospitalized. Rambha requested everyone to pray for her daughter Sasha's speedy recovery.
Read: Hansika Motwani set to enter the wedlock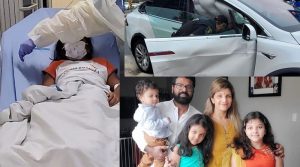 Sharing the photos of her damaged car, Rambha wrote, "Our car was hit by another car at an intersection way back from picking kids from school! "Me with kids and my nanny "All of us are safe with minor injuries my little Sasha is still in the hospital! bad days bad times. please pray for us your prayers mean a lot ??#pray #celebrity #accident (sic)."
Read: Sidharth getting married to this Heroine?
View this post on Instagram