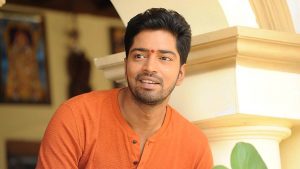 Allari Naresh, who was once known for his impeccable comic timing in spoof movies, has successfully transitioned into serious roles. After his portrayal in Mahesh Babu's Maharshi, he has been receiving praise for his acting skills. With the upcoming release of Ugram, Naresh is confident that he will continue to be offered new and diverse roles in the future.
While he acknowledges the challenges of comedy, Naresh believes that it takes a different set of skills to perform well in serious roles. He explains that he had to work on his body language and voice modulation for his latest film, Ugram, where he plays a police officer. The movie spans five years and features Naresh in three different variations of his character.

Despite the shift in his roles, Naresh has not forgotten his roots and expressed his gratitude towards other actors who have done reels in support of his upcoming release. He also revealed his desire to revive the iconic EVV Cinema banner.
The actor's success in transitioning to serious roles is a testament to his versatility and dedication to his craft. Naresh's fans are eagerly waiting for the release of Ugram and are excited to see him in this new avatar.