`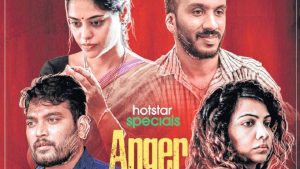 Starring: Venkatesh Maha, Suhas, Ravindra Vijay, Bindu Madhavi, Phani Acharya, Tharun Bhascker, Madonna Sebastian
Director: Prabhala Tilak
Producers: Sridhar Reddy & Suhas
Music Director: Smaran Sai
Disney Plus Hotstar has released an anthology series named Anger Tales, which boasts a talented cast including Suhas, Bindu Madhavi, Madonna Sebastian, Tharun Bhaskar and Venkatesh Maha which is directed by Prabhala Tilak. The series is now available to stream. Let's take a closer look.
Story:
I started crying towards the end of the song. Thank you my darling #Ariaana #Viviana, my little mommies ❤️❤️❤️❤️❤️. This has made my day and I will never forget this surprise gift for @vinimanchu and me. pic.twitter.com/RZI13tazny

— Vishnu Manchu (@iVishnuManchu) March 1, 2023
Anger Tales is an anthology film that focuses on four characters who experience extreme anger in different situations. The first story revolves around Pooja Reddy (Madonna Sebastian), a married woman who is prohibited from eating food of her choice by her vegan husband and mother-in-law. The second story features a 32-year-old man named Giridhar (Phani Acharya), who struggles both personally and professionally due to his bald head. The third story is about a housewife named Radha (Bindhu Madhavi), who is unable to sleep due to the constant chatter of her owner and relatives. The final story follows Ranga (Venkatesh Maha), a die-hard fan of a star hero who is determined to screen his favorite hero's benefit show at 7 PM on a single screen.
Positives:
The standout episode in Anger Tales is the final one, featuring Venkatesh Maha, which has a soulful storyline that captures the emotions of every movie fanatic. The story effectively portrays the lengths that fans go to for their favorite stars and also addresses the recent incidents of damage to theaters during re-release screenings. The other episodes, though decent, lack strong execution, which detracts from their impact. Bindhu Madhavi, Phani Acharya, and Ravindra Vijay deliver noteworthy performances in their respective roles.
Drawbacks:
The film's major drawback is the weak execution of the second and third tales. The narratives are inconsistent, and the storytelling in these episodes is dragged out with repetitive scenes. The climax of the third story is particularly ridiculous. The film's pace is slow, and the editing team could have removed redundant scenes to improve the film's flow.
Verdict:
Overall, Anger Tales is an average watch with a few noteworthy moments. While the performances and last episode are strong, the lackluster execution in the other stories hampers the film's overall impact.