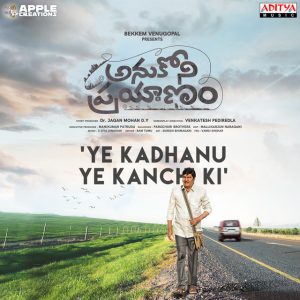 Starring: Dr. Rajendra Prasad, Narasimharaju, Prema, Tulasi, Ravi Babu, Subhaleka Sudhakar, and others
Director: Venkatesh Pediredla
Producer: Dr. Jagan Mohan D.Y
Music Director: S Siva Dinavahi
Rajendra Prasad, once a leading hero in Tollywood is now one of the most bankable character artists in the Telugu film industry. After a long gap, Rajendra Prasad appeared in a lead role in the movie Anukoni Prayanam which was released today. Let's see what the movie is all about.
Story:
The movie begins with two friends played by Rajendra Prasad and Narasimha Raju who make their livelihood by working as construction laborers in Bhubaneshwar. Rajendra Prasad is a carefree guy who doesn't want to get attached and doesn't believe in relationships.
Andaru Bagundali Andulo Nenu Undali Movie Review
With the sudden outburst of COVID-19, their work becomes at standstill and they start leaving for their respective native places. On their way to their native places, Narasimha Raju passes away and Rajendra Prasad decides to take his friend's corpse to his village. The rest of the movie is all about the obstacles in the journey and how he realizes the value of human relations.
Plus Points:
The main theme of the movie about the value of human emotions is good. It emphasizes the importance of human values. The first hour of the movie is established well and the emotions worked out well.
Rajendra Prasad once again delivers a noteworthy performance. This is a tailor-made role for the senior actor and he is at his best during the emotional scenes.
Another senior actor Narasimha Raju gets a good role after ages and he gave his best. A few dialogues by the Paruchuri brothers are impressive and thought-provoking.
Minus Points:
The biggest drawback is the pace of the movie. It runs at a snail's pace Though there are many good scenes in the movie, there's a considerable amount of lag between them which makes the movie a tedious watch at times.
A forced fight scene in the movie is not presented well and it looks a bit awkward. The climax isn't impactful.
Verdict:
The movie is not a regular commercial entertainer and has been made for a certain section of the audience. Lengthy run time, slow-paced narration, and forced artificial sequences to make it an okay watch.