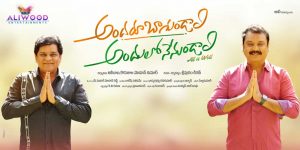 Starring: Ali, Mouryani, Naresh, Pavithra Lokesh, Manju Bhargavi, Manu, Tanikella Bharani, L B Sriram & others.
Director: Kiran SriPuram
Producers: Alibaba, Konathala Mohan & Sri Charan
Music Director: Rakesh Pazhedam, Bhaskar Patla
After a long hiatus, senior comedian Ali has donned the role of a hero for Andaru Bagundali Andulo Nenu Undali and made his debut as a producer for this movie. An official remake of the Malayalam movie Vikruthi. Instead of a theatrical release, Ali has opted for a directed OTT release for this movie and its streaming on AHA. Let's see how the Telugu version fares.
Story:
Srinivasa Rao (Naresh) is a middle-class mute man who leads a simple and happy life with his kids despite a very low income. He tries to get a secured government job. On the other hand, Sameer (Ali) is a foreign return guy who is obsessed with social media and he posts everything and anything that he comes. He finds a man Srinivasa Rao sleeping on the train. Sameer finds it funny and shares it on social media. In no time, the photo goes viral and made Srinivasa Rao a laughingstock. Due to Sameer's fault, Srinivasa Rao loses his job, and respect in society and gets into depression. A deeply upset Srinivasa Rao files a case and cops go on a search for Sameer. Will the police catch Sameer and teach him a lesson? That forms the story.
Positives:
Made on a shoestring budget, the makers have set up the entire story in Hyderabad and the casting is also good.
Naresh who is quite busy these days with character roles has donned another character this time. He gave his best as a mute man who lands in all sorts of troubles. His acting in a desperate and helpless situation is worth appreciating.
Ali plays the main hero after a long time and he is at his best. Ali's comedy timing is also neat, and he got to play a character who he gets scared of a lot in the film and Ali showcases this in a good way. The last half hour of the movie is quite engaging and emotionally touching.
Drawbacks:
The biggest drawback of the movie is it takes forever to enter the main plot. Though there's no necessity for the songs, the makers have forcibly included the songs which became stop breakers in the movie.
The supporting cast is not great. Unlike the original version, the Telugu version is too long and unwanted silly comedy scenes test the patience of the audience.
Verdict:
On the whole, 'Andaru Bagundali Andulo Nenu Undali' is an okay watch as it's on OTT. But, when compared to the Malayalam version, this remake is not that impressive and impactful.