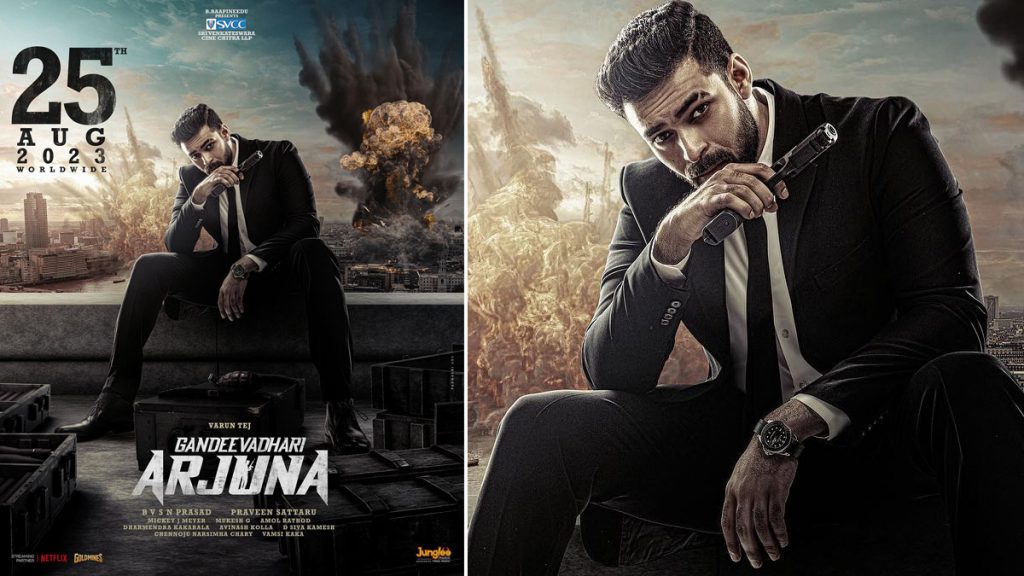 Starring: Varun Tej, Sakshi Vaidya, Nassar, Vimala Raman, Vinay Rai, Abhinav Gomatam, Ravi Varma, Kalpalatha, Baby Veda
Director: Praveen Sattaru
Producer: BVSN Prasad
Music Director: Mickey J Meyer
The highly anticipated film, "Gandeevadhari Arjuna," featuring Varun Tej in the lead role and directed by Praveen Sattaru, has finally hit theaters amidst medium expectations. Let's get into this review and see whether the movie can reach the expectations or not.
Story:
The story revolves around Adityaraj Bahadur (Nassar), a central minister from India, who faces a dire threat to his safety during his visit to London for the UN Summit on global warming. Arjun Varma (Varun Tej) steps in to safeguard Adityaraj from the impending danger posed by Ranveer (Vinay Rai) and his associates. As the narrative unfolds, several questions arise: Why has Ranveer targeted Adityaraj? What links them together? Who exactly is Arjun, and what role does Ira (Sakshi Vaidya) play in this complex scenario?
Positives:
Varun Tej's portrayal of Arjun Varma is praiseworthy, as he masterfully handles both intense action sequences and nuanced emotional moments.
Nassar's depiction of Adityaraj adds depth to the film and is worth acknowledging.
The movie benefits from its visually stunning aspects, brought to life by the cinematography team of Mukesh G and Amol Rathod.
The overall entertainment value is elevated by the effective sound design.
Negatives:
Despite initial promises to tackle themes of global warming and environmental issues, the film veers away from these concepts, opting for a more kid-centered storyline.
The lack of freshness and engagement in the first half creates an early disconnect, and unfortunately, the second half fails to rectify the pacing and overall engagement issues.
The director's struggle in optimally utilizing the ensemble cast results in underdeveloped prominent characters.
Performances by Sakshi Vaidya, Narain, Vimala Raman, and Ravi Varma fail to leave a significant impact on the audience.
Emotional sequences lack the desired resonance, partly due to the slow-paced screenplay that affects the climax's effectiveness.
The anticipated excitement from the film's action sequences is notably absent, as none of them manage to stand out.
Verdict:
In summary, "Gandeevadhari Arjuna" falls into the category of a conventional action drama that fails to engage the audience. Varun Tej and Nassar's performances shine, but the movie's remaining characters fail to make a lasting impression.
The movie's shortcomings in terms of writing and pacing lead to a lackluster experience in both halves. If you're willing to overlook these drawbacks, you might consider watching it over the weekend, but it's advisable to manage your expectations accordingly.