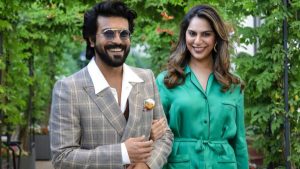 Ram Charan and Upasana, who have been married for over ten years, are eagerly awaiting the arrival of their first child, due to be born in a few months. The couple is currently enjoying this happy time in their lives and has been the guests of honor at baby showers organized by friends and family in Dubai and Hyderabad.
View this post on Instagram
Despite Chiranjeevi expressing his desire for a grandson in the past, the family has stated that they will be happy with any gender. However, rumors suggest that Ram Charan and Upasana may be having a baby girl, which was hinted at by Ram Charan himself in an interview where he referred to his upcoming child as his third "jaan," with his first being Upasana and second being his pet dog Rhyme.
View this post on Instagram
The pink-themed baby shower has only fueled speculation, increasing excitement amongst family, friends, and fans who are eagerly anticipating the arrival of the new addition to the family.