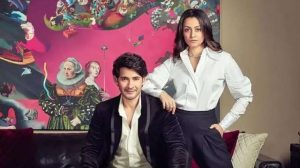 Superstar Mahesh Babu enjoys a massive fan following with an impressive career of almost 25 years. He is now about to explore new horizons in his upcoming film, SSMB28. Fans are eagerly anticipating this much-anticipated collaboration between Mahesh Babu and director Trivikram Srinivas, as it has generated a lot of excitement.
Despite the fact that shooting has been underway for some time, little information has been made public, with the exception of the release of the first-look poster. However, the film continues to capture widespread attention and speculation.
Recent reports suggest that Mahesh Babu will be portraying a dual role in SSMB28, a first in his illustrious career. Moreover, one of the two roles will have negative shades, presenting a unique challenge for the versatile actor. Sources indicate that Trivikram's distinctive storytelling style and unexpected twists will elevate the audience's experience to new heights, leading to even higher expectations for the film.
It is worth noting that Mahesh Babu has never attempted a remake or a dual role in his career, which adds to the anticipation surrounding his upcoming collaboration with Trivikram Srinivas. Fans eagerly anticipate the surprises and revelations that lie ahead in SSMB28, confident that the director's exceptional writing and the actor's extraordinary talent will deliver an outstanding cinematic experience.