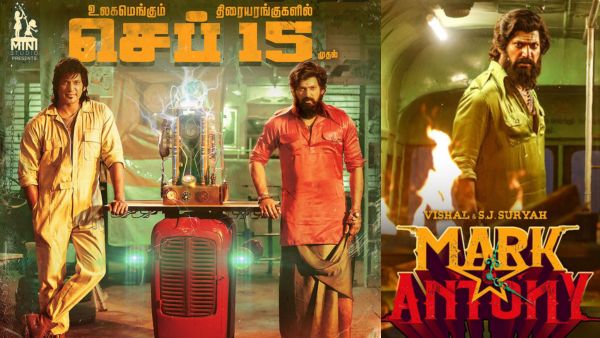 Starring: Vishal, SJ Suryah, Sunil, Selvaraghavan, Ritu Varma, Abhinaya, Redin Kingsley, Y.G. Mahendran
Director: Adhik Ravichandran
Producer: S. Vinod Kumar
Music Director: G.V. Prakash Kumar
Vishal, a well-known face to the Telugu audience with his action movies, has tried a sci-fi gangster action drama called "Mark Antony." Popular actor and director SJ Suryah played an important role in the movie. Directed by Adhik Ravichandran and produced by S. Vinod Kumar, the movie has generated quite a bit of excitement through its promotions. As the film hits theaters, let's see what the is all about.
Story:
Antony (played by Vishal) and Jackie Marthanda (played by SJ Suryah) are close friends who happen to be gangsters. They find themselves in conflict with another gangster named Ekambaram (played by Sunil). Tragedy strikes when Ekambaram kills Antony, forcing him to leave town. Jackie is determined to avenge his friend's death and takes on the responsibility of raising Antony's son, Mark (also played by Vishal). Jackie even places Mark above his own son, Madhan (played by SJ Suryah).
Mark, who holds resentment towards his father, works as a mechanic to make ends meet. The story takes a unique turn when Mark discovers a telephone that can communicate with people in the past. The film revolves around how this telephone affects the lives of Mark, Madhan, and Jackie.
Pros:
"Mark Antony" offers entertainment throughout the movie, with humor centered around the special telephone and its rules.
SJ Suryah and Vishal deliver outstanding performances, injecting freshness and vitality into the film.
Vishal impressively portrays both a gangster and a mechanic, showcasing his versatility and charisma on screen.
The double-decker fight scene is well-executed, and the CGI representation of Silk Smitha is commendable.
SJ Suryah's flawless acting, style, and charisma enhance the film's enjoyment, making the most of his unique qualities.
The casting team deserves credit for bringing together Vishal and SJ Suryah, a winning combination.
Cons:
"Mark Antony" introduces numerous characters and plot elements, which might overwhelm viewers who aren't paying close attention. Some scenes could benefit from more detailed explanations.
The dialogues and certain dramatic moments may feel familiar, lacking originality.
The film's pace slows down in the first half, and the songs disrupt the flow.
The climax of the film is underwhelming and lacks a powerful impact.
Sunil's character could have been developed more effectively.

Verdict:
Overall, "Mark Antony" is a watchable gangster action drama that shines due to the impressive performances of Vishal and SJ Suryah. The inclusion of sci-fi elements adds entertainment value, with enjoyable moments throughout the film.
However, to fully appreciate the movie's nuances, viewers need to pay close attention. The movie faces issues with a tedious first half, mediocre songs, and a lackluster climax. Nevertheless, for those willing to overlook these flaws, "Mark Antony" offers a decent, enjoyable watch.