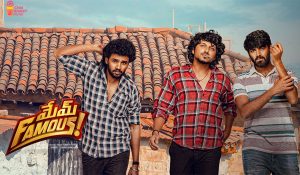 Cast:
Sumanth Prabhas as Mahesh
Mani Aegurla as Durga
Mourya Chowdary as Balakrishna
Saarya as Mounika
Siri Raasi as Babitha
Narendra Ravi as Bhaskar Yadav
Muralidhar Goud as Yellareddy
Kiran Macha as Shiva Nandan
Anjimama as Anji Mama
Director: Sumanth Prabhas
Producers: Anurag Reddy, Sharath, Chandru Manoharan
Synopsis:
In the rustic village of Telangana, Mem Famous tells the story of three aimless youngsters, Mahesh (Sumanth Prabhas), Durga (Mani Aegurla), and Balakrishna (Mourya Chowdary). Their lives take a transformative turn after a significant incident, leading them to mend their ways and bring pride to their village. Along their journey, they form connections with other characters, including Mounika (Saarya), Babitha (Siri Raasi), Yellareddy (Muralidhar Goud), Anji Mama (Anjimama), and Bhaskar Yadav (Narendra Ravi).
Artists' Performances:
Sumanth Prabhas delivers an impressive performance, showcasing his talent through impeccable body language and mannerisms. Mourya Chowdary and Mani Aegurla provide strong support, elevating the scenes with their acting skills. Saarya and Siri Raasi shine in their limited roles as the love interests of Sumanth Prabhas and Mourya Chowdary, respectively. Anjimama steals the spotlight with his emotional expressions and impactful presence, becoming a vital element in the storytelling. Other actors, including Muralidhar Goud and Narendra Ravi, deliver commendable performances in their respective roles.
Technical Aspects:
Written by Sumanth Prabhas, the story of Mem Famous revolves around the transformation of three idle youngsters and the development of their village. The plot, though simple and predictable, captures the essence of rural life through Telangana-accented dialogues and an authentic village ambiance. The first half strikes a balance between mischievous acts, village issues, and romantic elements, building up to a satisfactory interval climax.
However, the second half suffers from a decline in narration, screenplay, and direction. Repetitive scenes and gimmicks aimed at online viewership diminish the overall impact, resulting in a lackluster experience. The film concludes in a conventional manner without offering any standout elements.
Kalyan Nayak's music, while average, complements the rural setting, and Shyam Dupati's cinematography realistically captures the village atmosphere. Srujana Adusumilli's editing is satisfactory in the first half, but the second half feels casual and lenient, featuring tedious and unnecessary scenes that test viewers' patience. The dialogues in the Telangana accent are decent overall. The production values of Chai Bisket Films and Lahari Films are commendable.
Analysis:
Mem Famous adheres to a familiar comedy-drama formula set in a rural backdrop. Sumanth Prabhas showcases his talent as both an actor and director, extracting excellent performances from the cast and delivering entertainment in certain scenes. The dialogues in the Telangana accent receive applause. While the film's predictable story and routine elements hinder its potential, Sumanth Prabhas manages to create an engaging first half.
However, the second half falls short due to a weak screenplay and direction. With improved scripting, Mem Famous could have evolved into an enjoyable cinematic experience.