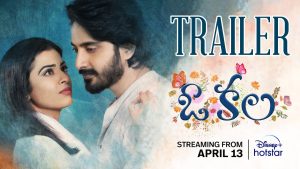 Starring: Gourish Yeleti, Roshni Sahota, Prachi Thaker, Devi Prasad & Others
Director: Deepak Kolipaka
Producer: Navya Mahesh M, Ranjith Kumar Kodali
Music Director: Neelesh Mandalapu
Story:
O Kala is a small-budget Telugu film directed by Deepak Kolipaka, which features newcomers Gourish Yeleti and Roshni Sahota in the lead roles. The movie revolves around Harika, played by Roshni Sahota, an MBA marketing graduate who starts an advertising company with the aim of providing employment opportunities to others. The rest of the film delves into the identity of Harsha, played by Gourish Yeleti, and the turn of events that take place as a result of his intervention.
Plus Points:
The film's success relied heavily on the performances of the lead actors, and Roshni Sahota and Gourish Yeleti delivered commendable performances despite it being their debut movie. Roshni Sahota's expressive portrayal of Harika stunned the Telugu audience with her confidence and conviction in dialogue delivery and body language. Gourish Yeleti played his role with subtlety and grace, and the director conveyed a relevant social message to today's youth through a sensible and impactful drama in the second half.
Minus Points:
The movie's slow narration and presentation style may not appeal to everyone. The dialogues exchanged between the lead characters are the primary focus, which some viewers might find monotonous and unengaging. The male lead's flashback episode is extended and lacks engagement, and some of the comedic scenes feel forced and unnecessary. The first hour of the film could have been better executed with more impactful scenes between the lead characters, and a shorter runtime would have made it more concise.
Verdict:
O Kala is a drama film that conveys an important message to society but moves at a slow pace. Roshni and Gourish make impressive debuts, and the director manages to handle some aspects of the film well. However, the film's presentation style and slow narration may not appeal to everyone, making it an average watch.