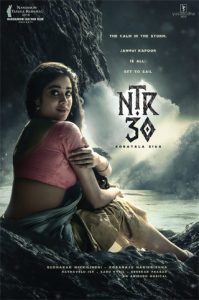 Janhvi Kapoor, the Bollywood actress, and daughter of the late legendary actress Sridevi has been making waves in the Indian film industry since her debut movie Dhadak in Hindi. Now, the young actress is all set to make her debut in the Telugu film industry with the much-anticipated film, NTR 30.
NTR 30 is a highly anticipated Telugu film that stars the superstar Jr. NTR in the lead role. The film is being directed by the renowned filmmaker, Kortala Siva. The movie's announcement created a buzz in the industry, and the news of Janhvi Kapoor joining the cast has only added to the excitement.
The news of Janhvi Kapoor making her Telugu debut with NTR 30 has created a lot of excitement among her fans. It is said that Janhvi will be playing a pivotal role in the film and will be sharing screen space with Jr. NTR. This is a huge opportunity for Janhvi, and she has expressed her excitement about working with Jr. NTR and Trivikram Srinivas in several interviews.
The Telugu film industry is known for its grandeur and larger-than-life films, and Janhvi Kapoor's entry into the industry is sure to create a buzz. Her presence in the film will not only attract her Bollywood fans but will also help the film reach a wider audience.