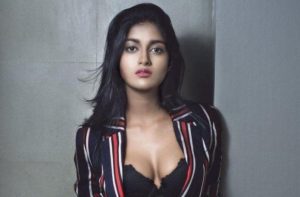 Tollywood actress Dimple Hayathi and her friend have been charged by the Hyderabad police for allegedly causing damage to a high-ranking police officer's car. The incident took place on Monday night when they reportedly drove their vehicle into the official car of Deputy Commissioner of Police (Traffic), Rahul Hegde.
Dimple Hayathi and her friend, David, reside in the same building as the IPS officer in the posh Journalists Colony in Jubilee Hills. The complaint was filed by the DCP's driver, Chetan Kumar, who accused the actress and her friend of intentionally damaging the parked vehicle in the designated parking area of the building's cellar.
Based on the complaint, the police have initiated legal proceedings against Dimple Hayathi and her friend under the relevant sections of the Indian Penal Code (IPC). Both individuals have been summoned to the police station and issued notices under section 41 A of the Criminal Procedure Code.
DCP Rahul Hegde addressed the media, stating that the CCTV footage clearly shows that the actress and her friend deliberately collided with his car. He mentioned previous instances where they obstructed his vehicle through improper parking, leading to arguments with staff, watchmen, and neighbors.
However, the IPS officer clarified that he does not hold any personal grudge against them and emphasized that they were unaware of each other's identities. He had previously approached them, requesting cooperation to avoid such obstructions, but his requests were unsuccessful.
Furthermore, the DCP denied any connection between the traffic violations issued against the actress and the current incident. The traffic challans were separate instances and were issued for reckless driving and incorrect number plate usage, as traffic police regularly enforce penalties for traffic rule violations.
Dimple Hayathi made her acting debut with the film 'Gulf' in 2019 and has since appeared in movies like 'Khiladi,' 'Ramabanam,' and the 2021 Hindi film 'Atrangi Re.' She has also acted in a few Tamil films.