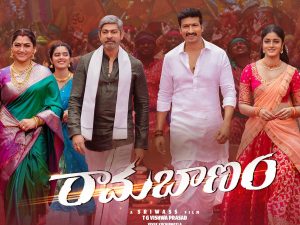 Cast: Gopichand, Jagapathi Babu, Dimple Hayati, Khusboo
Director: Sriwaas
Producers: Vivek Kuchibotla, T.G. Vishwa Prasad
Story:
Gopichand, an actor with all the traits of a star hero, has been struggling to establish himself in the top league of star heroes. In "Ramabanam," directed by Sriwaas, Gopichand plays the role of Vicky, who leaves his home, challenges his brother, and becomes a big don in Kolkata. His life changes when he falls in love with Bhairavi, and he has to return to his brother. The film's plot revolves around the troubles Vicky faces upon his return and how he overcomes them.
Performances:
Gopichand does justice to his role by portraying action, comedy, romance, and drama with precision. Dimple Hayathi, playing the typical commercial heroine role, fails to make a lasting impression despite looking good in the songs.
Analysis:
Sriwaas, who returns to directing after three years, chooses a routine mass family entertainer for "Ramabanam." However, the film carries an outdated vibe from the start, with everything reminiscent of commercial films popular more than a decade ago. The lack of updation in presenting the familiar story is the first and foremost issue with "Ramabanam." The movie just goes through the proceedings ticking all the
formulaic boxes, but with no real emotional impact.
While attempts are made to freshen up the presentation in some way in many outdated mass stories, "Ramabanam" fails to do so. The second half provides an opportunity to freshen up the proceedings with the food-related track, but the screenplay once again veers into outdated territory. The film concludes with a heavy climax where a message is delivered, which is good and timely, but one can't help but wonder how much better the movie would have been if it had been made more contemporarily.
Positives:
Casting
Message in the climax
Negatives:
Story
Direction
Comedy
Verdict:
"Ramabanam" delivers a significant message towards the end, but it fails to offer anything innovative in terms of content and presentation. The film is a run-of-the-mill mass entertainer that follows the formulaic approach, making it challenging even for ardent fans of the genre to endure.