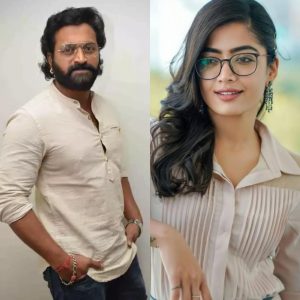 The massive success of the Kantara movie has made Rishab Shetty a familiar face in Indian cinema. An actor, producer, and director by profession, Rishab Shetty is the one who introduced Rashmika Mandanna with the Kannada movie Kirik Party which he directed. The movie which starred Rakshit Shetty, Achyut Kumar, and Samyukta Hegde was a huge hit.
View this post on Instagram
On Friday, Rishab Shetty took to his Instagram handle to share a lot of pictures from the sets of his Kirik Party movie as well as some stills. Several of the snaps showed Rishab Shetty behind the camera and Rakshit Shetty riding a bike in his rugged avatar. Rishab Shetty penned the caption in Kannada which loosely translated to, "Even after six years of Kirik Party. Your noise is still echoing in the ears. Makes me look back again. Thank you to everyone who was part of this celebration!" Rishab Shetty tagged Rakshit Shetty, but not Rashmika Mandanna who is the heroine in that movie.
Responding to the post, one of the fans wrote, referring to Rashmika Mandanna, "Once dead is always dead. Should never remember them. RIP Sanvi. Give respect and take respect. Karma lottery. Hope you will learn from your mistakes. Keep everything aside, at least respect those wonderful people because of whom you called an artist today. Very much annoyed by your attitude Rashmika." Another one commented, "Happy to see photos without the lady who passed comments without mentioning the names of people who helped her."
The feud between Rashmika and Rishab has been afloat ever since the actress refused to name the production house that had roped her in for her debut movie. The production house is Paramvah Studios, co-founded by Rakshit Shetty, a close friend of Rishab Shetty. Ever since Rashmika ignored mentioning the production house that introduced her to the film industry, she's getting trolled badly.