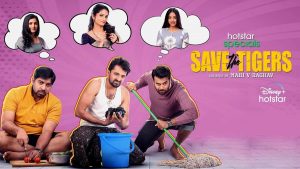 It has been a while since a Telugu comedy series has been released on OTT, but Save The Tigers, featuring Priyadarshi, Abhinav Gomatam, and Krishna Chaitanya in lead roles, has just premiered on Disney Plus Hotstar. Let's take a look at the series.
Story:
Ghanta Ravi (Priyadarshi), a dairy farm owner, Rahul (Abhinav Gomatam), an aspiring writer, and Vikram (Krishna Chaitanya), a creative ad writer, accidentally meet and become friends. All three men are frustrated with their wives behavior, and they get arrested in a Drunk and Drive case. Meanwhile, the police find out that a famous actress has been kidnapped. Is there any connection between the trio and her disappearance? Why did they drink? Is it due to their wives? Why did they call themselves "tigers"? The series will answer all these questions.
Positives:
The six-episode comedy series revolves around three frustrated men and their relationships with their wives. Priyadarshi-Sujatha, Pavani Gangireddy-Abhinav Gomatam, and Krishna Chaitanya-Deviyani all do justice to their respective roles. Abhinav Gomatam deserves special praise for his ability to generate humor throughout the series, while Priyadarshi and Krishna Chaitanya also deliver impressive performances.

Pavani Gangireddy's portrayal of an understanding and supportive wife, and Deviyani's feminist character are noteworthy. Jordar Sujatha plays the role of a woman who irritates her husband for a better place to live, and she does a great job. Jabardasth fame Rohini also shines in her role as a maid, generating plenty of laughs in her scenes with Abhinav.
The first three episodes are filled with funny moments that leave viewers feeling like the episode has ended too soon, while the remaining three episodes feature moments between husbands and wives that are either thought-provoking, emotional, or fun to watch. The good part is that the director narrated them in a soft tone, avoiding making the show too serious. The show's creators, Mahi V Raghav and Pradeep Advaitham, deserve praise for bringing this series that can be watched by the entire family.
The comedy scenes and their execution are the main strengths of the series. Director Teja Kakumanu successfully narrates the fun-filled series without creating any boredom. The bar scene, where Krishna Chaitanya vents out his anger on married women and their behavior, and a few fun moments between the couples, will surely connect with the majority of husbands in the real world. Couples will enjoy the show for sure.
Negatives:
The quote "Where drama begins, logic ends!" is perfectly apt for this series. If one tries to find logic, it's quite hard to enjoy the show, and that's why the filmmakers coined the term, "Cinematic Liberty."
Save The Tigers series has no great story, but it entertains throughout thanks to the comedy scenes it is filled with. After five good episodes, one would expect a better final episode. Unfortunately, the last episode was a bit of a letdown and could have been written better. It is a bit surprising to see three unknown and different individuals connected and become good friends so quickly as if they knew each other for ages. They meet regularly and even team up for a fight. As mentioned above, the director takes cinematic liberty. Characters played by Gangavva, Venu Yeldandi, Yadhav, and others should have been written better and given more screen space.
Verdict:
Overall, Save The Tigers is an entertaining comedy series that can be enjoyed by viewers of all ages. The performances of Priyadarshi, Abhinav Gomatam, and Krishna Chaitanya are particularly enjoyable, as their comedic timing and delivery are spot-on. However, the series does have some flaws, including a relatively simple plot and underdeveloped supporting characters. Despite these minor issues, Save The Tigers is still well worth watching with your family this weekend.