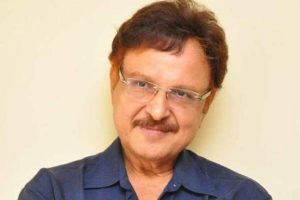 In a heartbreaking turn of events, Tollywood has bid farewell to yet another talented actor. Sarath Babu, a prominent figure in the Telugu film industry, has passed away recently, leaving behind a legacy that will be cherished by fans and colleagues alike.
Born in 1952, he began his acting journey in 1973 with the Telugu film "Rama Rajyam" and went on to establish himself as a versatile artist across multiple languages, including Telugu, Tamil, Kannada, Malayalam, and Hindi.
Sarath Babu's notable breakthrough came with his impactful role in the critically acclaimed film "Nizhal Nijamagiradhu," directed by the legendary filmmaker K Balachander. He became widely recognized for his portrayal of character artist roles in Telugu cinema, captivating audiences with his exceptional performances.
Throughout his illustrious career, Sarath Babu showcased his talent in numerous films, including notable works such as "Maro Charitra," "Sagara Sangamam," "47 Rojulu," "Sitara," "Anveshana," "Annayya," and "Seethakoka Chiluka," among others. His contributions were widely acknowledged, earning him eight Nandi Awards for his outstanding performances.
Sadly, Sarath Babu's journey in the film industry came to an end with his recent demise. His final film, "Malli Pelli," is set to release this week, marking the culmination of an incredible cinematic career that spanned several decades.
The news of Sarath Babu's demise has left the Tollywood fraternity and fans in a state of profound grief. Many actors, directors, and industry insiders have taken to social media to express their condolences and pay tribute to the late actor. They have shared fond memories, highlighting his contributions to the film industry and the impact he made with his exceptional performances.
#Breaking: Veteran actor #SarathBabu no more. He passed away at age 73 on Monday while undergoing treatment at a private hospital in the city since April 20. Cause of death is damage to multiple organs #RIPSarathBabu #Tollywood #Kollywood #SarathBabuRIP pic.twitter.com/nQbSQVb2tD

— Hyderabad Times (@HydTimes) May 22, 2023
Sarath Babu's loss is deeply felt in the world of Telugu cinema, where he will be remembered as a remarkable talent who left an indelible mark. His work will continue to inspire aspiring actors and movie lovers, reminding them of the power of storytelling and the magic of the silver screen.