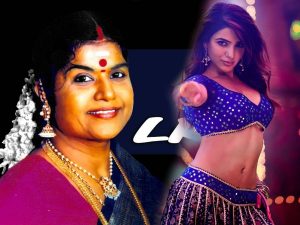 LR Eeshwari, a senior singer and a veteran in the music industry, recently criticized the popular song 'Oo Antava Mama' from the movie 'Pushpa: The Rise'. LR Eeshwari, who is known for her hit songs like 'Masaka Masaka Cheekatilo', 'Bhale Bhale Mogadivoy', and 'Teekso Coca-Cola', made her remarks in a recent interview.
The singer stated that she is not a fan of present-day songs and did not even consider 'Oo Antava' as a song. She criticized the composition and singing, saying that the song remained on the same pitch throughout and that the singers sang as they were instructed. She added that it was the music director's responsibility to monitor them and that if the song had been offered to her, she could have taken it to the next level.
LR Eeshwari's remarks have sparked a debate in the music industry, with many people weighing in on the issue. Some have criticized her for being out of touch with current trends and for not appreciating the efforts of the current generation of music composers and singers. However, others have come to her defense, stating that her comments are valid and that the quality of music has indeed deteriorated in recent times.
Regardless of the differing opinions, LR Eeshwari's contribution to the music industry is undeniable. Her unique voice and style of singing have made her a household name in the industry, and she has won numerous accolades for her work. She has worked with some of the greatest music directors in the industry and has lent her voice to many hit songs over the years.