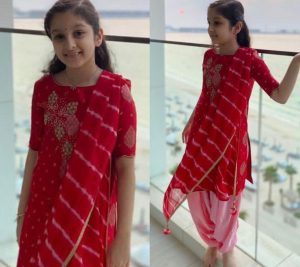 Sithara, the daughter of Tollywood superstar Mahesh Babu, is known for her entertaining social media presence. However, a recent video posted by her has drawn criticism from netizens for her unsafe behavior. In the video, Sithara is seen sticking her head out of a moving car to enjoy the scenic view.
Also Read: Allu Arjun's Reaction to NTR's party leda Pushpa?
View this post on Instagram
Many netizens expressed their concern for her safety and reminded her of the importance of following traffic rules and regulations. As a public figure, they expect her to set a positive example for her followers and promote responsible behavior.
Also Read: Demands grow to boycott Pushpa 2
View this post on Instagram
Unfortunately, some fans have resorted to unnecessary trolling and even blamed Mahesh Babu and Namrata for their daughter's actions. It is important to remember that everyone makes mistakes, and instead of criticism, we should use social media to spread positivity and encourage responsible behavior.